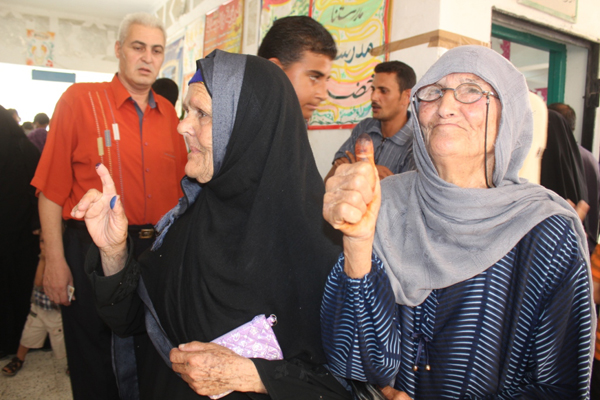 Polling stations have opened on Sunday in the second day of the presidential election runoff, in which the Muslim Brotherhood's Mohamed Morsy is competing with former Prime Minister Ahmed Shafiq over the top executive post in the country. Voting is taking place in 13,101 polling stations across the country under full judicial supervision and security provided by both the police and the army. The first day of the runoff witnessed scattered violations and minor incidents of violence. A lower than expected voter turnout was reported by the Presidential Elections Commission. Vote counting is expected to begin after the polls close on Sunday night, while the official and final results are to be announced on 21 June.
9:30 pm: Some media outlets have reported instances of polling stations closing before 10 pm.
Al-Watan newspaper's website said that the judge responsible for the Hasmda School polling station in Sohag announced the station's results, saying that Mohamed Morsy received 831 votes and Ahmed Shafiq got 136 votes.
State-run news agency MENA reported that the judges in charge of a polling station in the working class neighborhood of Dar al-Salam in Cairo began counting while people were still casting ballots in order to save time.
8:00 pm: Text messages have been circulating claiming that Morsy is in the lead and urging people to head to the polls and vote for Shafiq in the last two hours of voting.
7:30 pm: Polling stations were closed in the Bir al-Abd village in North Sinai after clashes between Shafiq and Morsy supporters.
The supporters hit and threw stones at each other, resulting in one injury. A man whose car was damaged during the fighting fired into the air to disperse the crowd.
6:00 pm: Maher al-Beheiry, the vice president of the Presidential Elections Commission (PEC), said voter turnout has reached 40 percent as of Sunday evening, Al Jazeera Mubasher Misr reported.
Election monitors have said that turnout seemed lower during Saturday and Sunday's runoff than during the first round of voting on 23 and 24 May. 46 percent of Egypt's 50 million eligible voters took part in the first round, or around 23 million people out of Egypt's population of 82 million.
The PEC's estimated turnout in the runoff is higher than what activists observing the election and the Muslim Brotherhood have projected. On Saturday, members of the Lawyers Syndicate who volunteered to observe the election said turnout did not exceed 20 percent.
Monitors say that polling stations tend to witness a surge in voters during the evening.
5:00 pm: The PEC has decided to extend voting hours until 10 pm in order to attract more voters, MENA reported.
Officials at the elections commission say that the extension is meant to encourage citizens to vote at night when the temperature is lower.
Images from state TV and private satellite channels show that polling stations were almost empty at noon.
Most of Egypt has been very hot on Sunday, with the temperature reaching 38C in Cairo. It is hotter in the southern part of the country, where it is 44C in Aswan.
On Saturday, the commission, headed by Supreme Constitutional Court Judge Farouk Sultan, extended voting until 9 pm.
4:00 pm: A judge at a polling station in Obcoay, Fayoum, has decided to stop the voting process and annul all the votes cast there after finding an employee of Obcoay prosecution, assigned to work in the station, in possession of a stack of ballot cards. The employee had allegedly cast 47 cards in favor of Mohamed Morsy.
Mustafa Saad, the judge at Aboksa Primary School, filed a report. The ballot cards and the employee himself were taken into detention until he is referred to the prosecutor for investigation.
The electoral campaign for Shafiq said it has filed more than 100 reports of rigging in favor of the Muslim Brotherhood candidate.
Ahmed Sarhan, media spokesperson for Shafiq's campaign, accused Morsy's campaign of pre-marking ballot papers in favor of Morsy in several governorates, particularly rural governorates such as Sharqiya, Qalyubiya and Daqahlia.
Yasser Ali, the spokesperson of Morsy's campaign, said rumors spread by Shafiq's supporters over ballot papers pre-marked in favor of their candidate aim only at concealing his own violations and are an attempt to get ahead when indications point to Morsy making progress in the poll.
In a press conference on Sunday, Ali said the campaign's legal committee filed a report with the public prosecutor against the government's print houses for printing pre-marked ballot papers. He said those ballot papers were not used. "We're not involved. It's the authorities that were handed [the balloting papers] from Amireya print houses."
Ali added that some ballots were bought for Shafiq, whose supporters have been threatening voters, especially in Sharqiya's Zagazig.
The general coordinator of Morsy's campaign, Ahmed Abdel Aaty, said a former member of the ruling military council, accompanied by some armed forces personnel, called on voters to vote for a specific candidate in Kafr al-Sheikh.
3:30 pm: A medium votor turnout was seen in Aswan on Sunday.
Various polling stations opened late due to the tardiness of judges and monitors, so many voters left, saying they would come back in the evening.
Major General Hassan Mohamed Hassan, the Aswan security chief, said elections were proceeding normally. No violations had been seen in Aswan, he said.
Montasser Abdel Aziz, the coordinator of Morsy's campaign, denied the presence of any pre-marked ballot papers in favor of Morsy. He said some were found in a polling station in Edfu having been delivered from the Amireya printhouse, but were discovered ahead of voting.
3:00 pm: Prime Minister Kamal al-Ganzouri has been inspecting some polling stations in Heliopolis today.
While inspecting the Lycee al-Horreya School polling station, Ganzouri called on citizens to take part in the "most important elections in Egypt's history." He said that the government was providing everything necessary to encourage citizens to vote.
Ganzouri, 79, was appointed prime minister by the ruling military council in December last year.
2:30 pm: In Port Said, the polling process appeared to be going smoothly but the turnout was low. Temperatures were high and some polling stations were empty of voters.
Some minor violations were observed in the governorate. The head of the Mohamed Farid polling station filed a report against a voter called Rasha Ahmed al-Sayyed for taking a photo of her ballot paper after voting for Morsy.
In the Madina al-Monawara School polling station, Morsy's representatives noticed a voter putting a fake ballot paper in the box and keeping the original.
The head of the Yarmouk School polling station filed a report against a voter who tore up her ballot paper.
2:00 pm: In Giza and Haram, an increase in voter numbers was witnessed. Hatem al-Amin, chairman of Othmab Ibn Affan School in Haram, said the total number of voters by the end of Saturday stood at 2,000, up from 1,250 during the election's first round. He said he expects a 65 percent increase by the end of Sunday.
However, in Dokki suspicion loomed amongst some voters after reports of possible fraud.
At Dokki's Nasser School, a women's polling station, the female judge in charge said she was frustrated by the stories of Chinese invisible ink pens and pre-marked Morsy ballots that went viral in the media on Saturday. The judge said they were false reports, but were causing trouble inside her polling station. She said voters expressed their mistrust in the process after hearing the rumors and some insisted on using their own pens for fear of having their ballots invalidated. One voter tore up her ballot, telling the judge that she had no faith in the process after everything she had heard. The judge said she felt disrespected and unappreciated, even though she is doing a hard job.
Voters' choices in the polling station were varied. Mona Hamed, a housewife, said she chose Shafiq for "the obvious reason, stability." She said that for her the Muslim Brotherhood don't represent Islam.
"No one will be able to bring back the days of Mubarak, even if Shafiq wins, but becoming an Islamic state, that's very difficult," said Hamed. "There are a lot of poor people. You should provide them with food and security, then everything comes later — this is the real Islam that they claim to represent."
But the Renaissance Project, presented by the Brotherhood as its candidate's platform, was enough to convince pharmacist Ahmed al-Sayed to vote for Morsy. "I want someone who has a project; Ahmed Shafiq doesn't have an identity," he said.
Nagat Gouda, a teacher, said she had to make a choice — which she didn't disclose — between two candidates she rejects. "I had to choose the lesser of two evils. We want the country to be calm and everyone to be able to live. All we want is equality, isn't Egypt our country too?" she asked, complaining that only the rich in Egypt are able to enjoy a good standard of living.
1:30 pm: A member of the Millet Council of Alexandria's Coptic Orthodox Cathedral, Nader Morqos, said Coptic turnout in the runoff has reached more than 90 percent of the Coptic population in the governorate. All Alexandrian Copts have voted for Ahmed Shafiq, he said.
The cathedral mobilized all of Alexandria's monks and nuns to vote in the runoff, saying it is a national duty and that not voting is sinful.
The council member said it is the first time in the church's history that monks and nuns are being mobilized to vote on the instructions of General Bishop Father Bishoy.
Priest Yohana George said he voted for Shafiq because he is the candidate of the civil state and moderate Islam.
Overall, a very low turnout was seen in Alexandria, with few voter lines.
At Mustafa Kamel Secondary School in Smouha, Freedom and Justice Party campaigner Mohamed Hamed believes Morsy's chances are high in the district despite the fact that its upper-class residents used to dislike Islamists. They are voting for Morsy now for the sake of the revolution, he said.
By midday Sunday, the navy had begun bringing supplies for the judges who will start vote counting tonight.
1:00 pm: In Cairo's Matareya district, PEC head Farouk Sultan has been inspecting the voting process at some polling stations. He has visisted the Taha Hussein School polling station and is expected to visit the Hoda Shaarawy School polling station at the same district.
Mostafa Rayan, the head of a polling station in the area, said voting is going smoothly and violations are very few.
Matareya and Ain Shams both witnessed a low turnout on Sunday.
12:30 pm: In Dar al-Salam, a working-class district in the south of Cairo, voters are swinging between Morsy and Shafiq for different reasons.
Shaimaa Ahmad, 31, housewife, says she loves Morsy so much that she voted for him twice. "He's a good man, you can see it in his face. He will fix this country." Abdel Aziz, 44, an electrician, voted for Morsy but for different reasons. "I don't support either candidate, and I don't know anything about them, but I was told a vote for Shafiq would be a waste of our martyrs' blood, so I voted for Morsy. But I am worried I might have made a mistake." Both were at the Omar Ibn al-Khattab Elementary School.
In the Ahmad Orabi Elementary School, also in Dar al-Salam, Shafiq seems to be taking the lead among voters. Ahmad Abdel Tawab, 29, a dairy products shopkeeper, voted for Shafiq out of pragmatism. "He is going to win either way, so why not? The police want him, America wants him and Israel wants him. Our military will never allow Egypt to become an Islamic state or anything other than a military one."
However, Magdy Khaled, 41, a stationary store owner, opted for Shafiq out of conviction. "Shafiq knows the ins and outs of the country and how things work. And I believe he will be good for us, after he has seen what happened to Mubarak [sentenced to life for failing to stop the killing of protesters during the uprising]. And if not, we'll get rid of him. With the Brotherhood, that won't even be an option."
12:00 pm: The April 6 Youth Movement is continuing its campaign in support of boycotting the election.
In Safaga and Hurghada in the Red Sea Governorate, the movement distributed around 2,000 flyers calling on citizens to boycott the runoff election, the second and final day of which is today.
It said the boycott is necessary because neither candidate has declared his campaign funding sources and because of violations during the first phase. They also reject Mubarak-era Prime Minister Ahmed Shafiq, who is able to run because the Political Isolation Law was rejected as unconstitutional by the Supreme Constitutional Court on Thursday.
The flyers said that none of the candidates represent the revolution: Shafiq is representative of the former regime, and Morsy represents the Muslim Brotherhood, which has abandoned the revolutionaries on more than one occasion.
11:30 am: In the cities surrounding the Red Sea, famous for having both towns that cradled the revolution and towns with an increasing thirst for stability, turnout was still moderate on Sunday morning.
In Ismailia, voters claim that the area is Shafiq territory, despite Morsy's decisive win in the first round of the presidential election. He secured the highest number of voters there, while Shafiq came in fifth. A shopkeeper by the Badr Elementary School polling station told Egypt Independent that "people there are all voting Shafiq." Twenty-year-old Mohamed Abdel Baset says he voted for Shafiq because he is "convinced by him." He regards the fact that Shafiq belongs to the old regime as an advantage, saying, "The old regime knows how to fix the country." Yosry Roshdy, meanwhile, describes Shafiq as a "statesman and politician." He thinks the Brotherhood will "turn into a new National Democratic Party" and dismisses corruption allegations against Shafiq: "There are allegations against the Brotherhood, too, but nobody has been able to prove anything."
In Zaghaaba, Mohamed Hassan Negm Eddin, born in 1914, voted for Morsy today "for justice."
"I have been oppressed for 60 years," Negm Eddin said. "Shafiq belongs to the National Democratic Party and Mubarak. He oppressed us for 60 years, we've been tired for 60 years."
In the nearby Suez City, turnout was also moderate, as in rural parts of Suez where the voters turning out were mostly women. Campaigners for both Shafiq and Morsy clustered around some voting stations inside and outside the city.
11:00 am: In Upper Egypt, a moderate turnout has been reported this morning in Minya and a protest was witnessed in Qena.
In Minya, women queued in lines that were several meters long. Some polling stations in the governorate opened half an hour late.
In Qena, 200 Morsy supporters gathered in front of the Nagaa Hammadi Police station early on Sunday to protest what they described as the spread of unlicensed weapons and an alleged assault on a Morsy supporter with clubs.
10:30 am: Dozens of people attempted to break into a polling station at Kafr Hegazy School in Mehalla al-Kobra in Gharbiya to steal ballot boxes late on Saturday, privately owned Sada al-Balad news website said.
The website said they were prevented from doing so by supporters of Mohamed Morsy, who encircled the school.
A source from the Freedom and Justice Party said an urgent report of the incident will be submitted to the head of the goverorate's elections commission.
10:00 am: An Interior Ministry source told Al-Masry Al-Youm Sunday that all security procedures are running smoothly all polling stations on the second day of the run-off election.
The armed forces and police are working together to secure the elections and deal with potential incidents of violence, the source said. He said security reports suggested that some people intend to create chaos or spread rumors of election rigging in order to affect the voting process.
The source also said "Ballot boxes were found safe at all the polling stations and were unsealed."
Security measure will be in place at polling stations until voting ends and counting starts, the source added.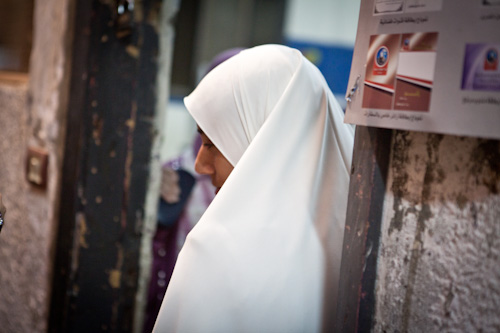 9:00 am
: Voters begain flocking to polling stations in Cairo's Shubra neighborhood, which has a high population of Coptic Christians. Campaigning by both Shafiq's and Morsy's supporters was witnessed by Al-Masry Al-Youm around some of the Shubra polling stations. Morsy's supporters were distributing campaign pamphlets a few meters away from some stations, while at others, campaign members set up working stations with laptops to help voters identify their voting spots.
In the east Cairo neighborhood of Nasr City, voters also started to reach polling stations. Army officers securing the voting process in the area removed campaign posters that were hung next to the polling stations. In Heliopolis, also east of Cairo, a slow morning is manifested by a low turnout in various polling stations.
There are more than 6 million eligible voters in Cairo.