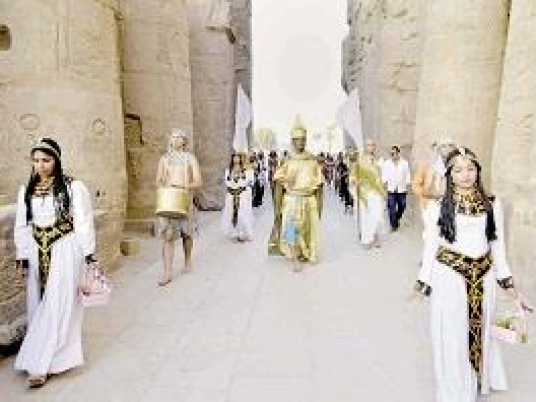 Luxor authorities have organized a Thursday celebration for the ancient pharaonic Opet Festival along al-Kebash Road (Rams Road) to the Luxor Temple.
A parade of three wooden boats bearing the symbols of the old pharaonic god Amon, his wife Mut and their son Khonsu traveled down al-Kebash Road. The parade was led by people dressed in pharaonic attire similiar to the pharaoh, his wife, and their entourage.
Tourism Minister Hisham Zazou, Antiquities Minister Mamdouh al-Damati and Luxor Governor Mohamed Badr, as well as dozens of tourists, representatives of foreign communities residing in Luxor and a number of executive and security leaders and officials of the tourism companies attended the event.
The Opet Festival was celebrated by ancient Egyptians during the Nile flooding season.
The event aimed to promote tourism in the Upper Egyptian governorate of Luxor.
Edited translation from Al-Masry Al-Youm