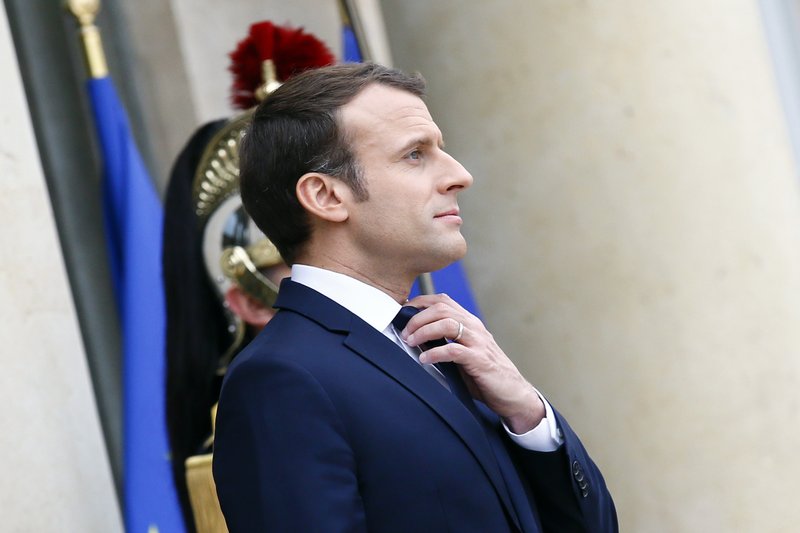 French President Emmanuel Macron, trying to curb what has become the most damaging scandal of his presidency, on Friday fired a top security aide who has been taken into custody after videos emerged showing him strike a young man during a demonstration in Paris in May.
The Elysee Palace said that Alexandre Benalla would be dismissed after "new elements" emerged in the case, namely that he is suspected of unlawfully receiving police surveillance footage in a bid to clear his name.
A source close to the inquiry said that three police officers, including two high-ranking officials, have been suspended on suspicion of providing the footage to Benalla.
He is facing charges of violence by a public official, impersonating a police officer and the illegal use of police insignia, and complicity in unauthorised use of surveillance footage, the Paris prosecutor's office said.
Macron and his government are facing fierce criticism over the affair, with some opposition lawmakers saying Interior Minister Gerard Collomb's job is on the line if he knew about the incident but kept quiet about it.
A source close to the inquiry said Friday that Macron's cabinet chief, Patrick Strzoda, had been questioned by investigators on Thursday.
"The very core of the state has been tainted. Our work must stop immediately and the prime minister must come and explain this," said Christian Jacob of the rightwing Republicains party.
The scandal erupted this week when French daily Le Monde published a video taken by smartphone showing Benalla, wearing a police helmet, manhandling and striking a protester during a May 1 demonstration.
In a second video published by the newspaper late Thursday, Benalla — who has never been a policeman — is also seen violently wrestling a young woman to the ground.
It was not clear who informed Benalla's superiors of the incident, but a few days later he was suspended without pay for two weeks and transferred to an administrative role instead of organising security for Macron's trips.
But the incident was not reported to prosecutors.
– 'Political crisis' –
The affair is particularly embarrassing for Macron since he won the presidency with pledges to restore transparency and integrity to the nation's highest office.
Adding to the controversy, Le Monde reported Friday that despite his suspension Benalla was given this month a prestigious government-owned apartment in the chic Seventh Arrondissement.
He is also being provided with a car and driver, the paper reported.
The BFM news channel meanwhile reported that Benalla was back on duty doing security work this week, travelling on the bus carrying France's World Cup-winning football team down the Champs Elysees for a victory parade.
Newspapers on Friday assailed the president's refusal to address the scandal despite repeatedly being questioned by journalists during a visit to southwest France on Thursday.
"By not immediately managing a disciplinary problem, Emmanuel Macron now faces a political crisis," wrote the rightwing Le Figaro daily — which usually makes no secret of its admiration for the president.
– Poll ratings sink –
Just days after the May 1 demonstrations, which were marred this year by anarchists who clashed with police, Macron tweeted that "everything will be done so that those responsible will be identified and held accountable for their actions."
Interior Minister Collomb confirmed in parliament Thursday that Benalla had "no right to intervene" at the gathering of leftwing student protestors on the Rue Mouffetard, a picturesque Left Bank street loved by tourists.
The case has also prompted unflattering accounts of Benalla's behaviour from other officials who have worked with him.
Arnaud Montebourg, a former minister in ex-president Francois Hollande's government, recalled dismissing Benalla from his service after just a week because of a "serious professional failure."
"He caused an accident while acting as my driver and tried to flee the scene," Montebourg told Le Monde on Thursday.
The scandal comes with Macron's popularity at a record low, defying analysts' expectations of a post-World Cup bump — with an approval rating of just 39 percent in a BVA poll carried out on Wednesday and Thursday.