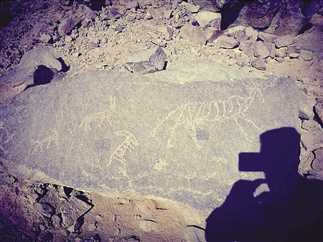 Archaeological researcher, Mahmoud Tony made an important discovery, a few days ago, during an expedition in the Eastern Desert, for a marble stone with drawings, dating back to the prehistoric era, embodying a hunting scene from that period.
The drawing shows a hunter – drawn in a schematic style – holding a weapon in his hand that he uses to hunt his prey, and a pair of hunting dogs leading to help him in chasing and hunting the prey.
In front of the two dogs appear two preys, a small wild ibex with long horns and an Arabian Oryx, which was among the most hunted animal herds in ancient times.
Tony explained that the drawings were executed by grooving on the surface of the black marble stone, so they showed in white color on a black background.
The artist excelled in adding the element of movement in the scene, through the representation of the feet in the drawings of human and animal figures, so that one feet was in a forward position and the other in a backward position as if the figures were moving.
Tony stressed the importance of the content of the rock drawings as an evidence of the daily activities and aspects of the social life of prehistoric humans. He added it reflected that valleys in the Eastern Desert enjoyed water, plants and green trees, which made them a breeding ground for wild animals and a target as well for hunters.
The rock drawings showed the shape of the hunting weapons prevalent at that time, as well as the animals that the ancient man used in hunting, most importantly dogs.