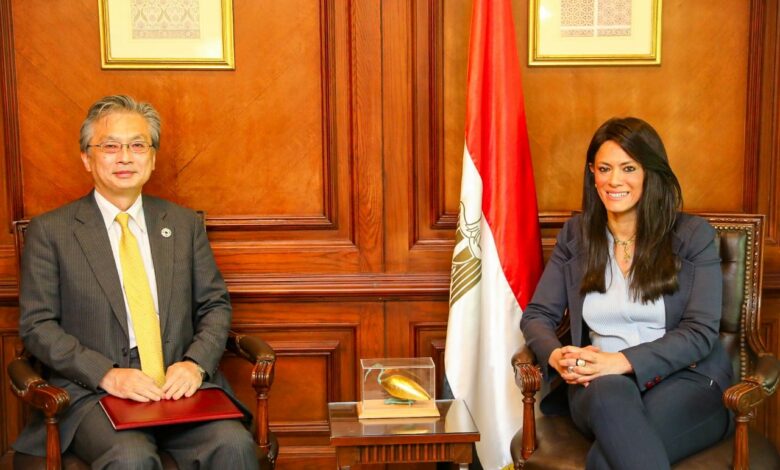 The Egyptian Minister of International Cooperation, Rania al-Mashat, received, on Monday, Hiroshi Oka, the new Japanese ambassador to Cairo, after presenting his credentials to the Egyptian President several days ago.
The meeting comes within the framework of the meetings held by the Minister of International Cooperation, with multilateral and bilateral development partners, to consolidate joint relations advance development efforts.
Mashat stressed the importance of the diversified development cooperation portfolio between Egypt and Japan in many sectors, which amounted to US$ 2.8 billion.
She pointed out that Japan had many contributions with the government to support its plan to respond to the coronavirus pandemic.
These plans amount to more than US$ 250 million, whether through the World Health Organization's COVAX facility for the distribution of vaccines, or financing development policies for comprehensive health insurance, as well as grants directed to provide equipment necessary to combat the pandemic.
The Minister of International Cooperation explained that the next stage will witness more areas of cooperation within the framework of the state's development priorities, especially benefiting from the pioneering Japanese experience in the field of comprehensive health insurance in cooperation with the French partner and the World Bank Group and the second phase of the construction of the fourth line of the Cairo metro.
Mashat looked forward to more joint work within the framework of increasing Japanese investments in the local market, especially in the priority sectors of the state, in a way that enhances the participation of the private sector in development.
Mashat reviewed Egypt's preparations to host the COP27 Climate Summit, within the framework of its presidency of the twenty-seventh session and efforts to enhance cooperation with development partners in supporting green transformation efforts, especially in projects that support this trend.
These include projects that the Japanese International Cooperation Agency contributed to financing as a construction project of Dairut aqueduct, which contributes to reducing water wastage, and the project to establish a power plant from solar cells in Hurghada.
For his part, the Japanese ambassador in Cairo reviewed his government's efforts to prepare for the No. 8 Summit of the Tokyo International Conference on Development in Africa scheduled to be held August 26-28, 2022.
Tunisia will host this session as an African country after Kenya, which hosted the conference in 2016. The conference is concerned with discussing ways to advance economic development in Africa..
Especially in light of the challenges the whole world is going through during this period, and reach agreement on issues of common concern.