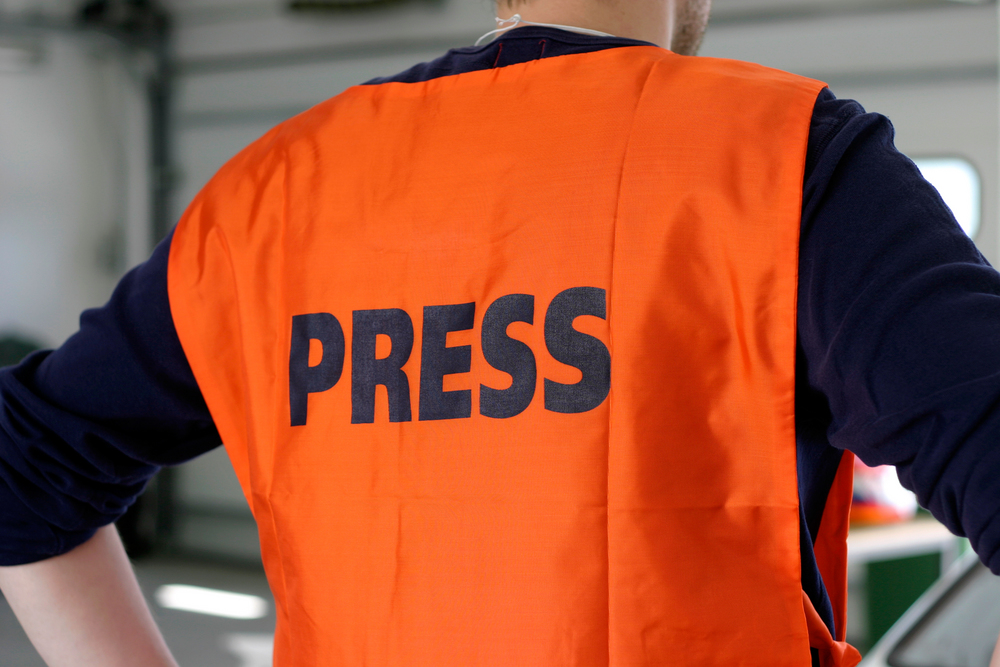 Journalism has come under attack more and more since 3 July in Egypt. Both foreign and national journalists suffer from crackdowns and censorship by security forces, with little reaction from the Egyptian Journalists Syndicate.
As Tamer Abdel Raouf, head of Al-Ahram office in Beheira, headed out for a meeting with the local governor minutes after curfew started, he was shot dead in his car. His colleague, Beheira's Al-Gomhouria directorm Hamid al-Barbary, survived with some injuries but was later arrested.
Scripts and scenarios
Several hours after the incident, Egypt's armed forces spokesperson announced in a statement that the journalists' car was speeding towards an army checkpoint and disobeying the soldiers' orders to stop the car. The soldiers were therefore forced to shoot.
He explained that the incident was unintended and soldiers did not know who was inside the car. Had the soldiers known that they were journalists, they would not have fired, the spokesperson added, because journalists are exempted from the curfew.
A day after the incident, Barbary appeared in a video that went viral on social media but was overlooked by all Egyptian media, narrating his version of the story. Noticeably affected by his injuries, Barbary said that they had stopped the car and obeyed the soldiers' instructions to "drive back to where they came from" but were shot from behind.
"Abdel Raouf was shot in the head from the back," he added. "He lost control of the car and as a result we hit a lamppost."
A few hours after the testimony appeared, a four-day arrest warrant was issued to detain Barbary for "possession of weapons."
The army spokesperson then issued another statement narrating a different scenario, contradicting the initial one, saying that the journalists had weapons and were firing at the army checkpoint which prompted soldiers to shoot.
The contradiction was again overlooked by all Egyptian media who published and aired news of the statement and the journalists' arrest and charges without any contextualization or reference to the intricacies of the incident.
"The Journalists Syndicate and Egyptian media have let their political agendas come in the way of their job," Ahmed Hosny, journalist at al-Shorouk newspaper, told Egypt Independent. "The syndicate's board are supporting the army and its crackdown. They lost track of their primary role as protectors of freedom of journalism in Egypt in the midst of their political biases. It is shameful."
Politicized syndicate
The Journalists Syndicate, which had overtly criticized Mohamed Morsy's regime for the murder of one journalist, Al-Husseiny Abu Deif – working for Al-Fagr newspaper – who was shot by Muslim Brotherhood loyalists during clashes in front of the Ettehadiya presidential palace in December, is yet to organize a protest or issue equally harsh statements now. This, despite the fact seven journalists have been killed and dozens more detained in less than two weeks.
Khaled Meiry, member of the syndicate's board, told Egypt Independent that the syndicate has condemned the killing of Abdel Raouf and asked authorities to investigate the case. He added that they are following up on charges against al-Barbary as well.
"We are there to help all journalists and protect their rights," he said. "We are helping journalists who are not even part of our syndicate or who are affiliated to news channels that are known for their bias against Egypt like Al Jazeera."
He added that the syndicate has formed a committee to follow up on the threats facing journalists in Egypt.
When asked if the syndicate intends to organize protests condemning attacks on journalists, he said that they cannot organize similar rallies due to the curfew and that investigations are still ongoing and that they were promised a transparent process by authorities.
"You cannot let one of the suspects investigate a crime," Hosny commented. "The syndicate should put its biases aside and protect its members by requesting an independent and neutral investigation at least."
Selective protection
Among the killed, injured and detained journalists are Egyptians and foreigners belonging to local and international news agencies. When Egypt Independent surveyed the agencies to which the journalists belong about the role of the Journalists Syndicate in helping their journalists, all of them said that it was "unrecognizable" to say the least.
"The syndicate has in fact been advocating against our detained journalists," Abdel-Fattah Fayed, head of Al Jazeera's Cairo Bureau, said. "The head of the syndicate never picked up my calls when we were trying to contact him. He has politicized the role of the syndicate and was okay with overt calls inciting violence against our journalists inside and outside the syndicate."
He added that the "syndicate's blessing" of violence against Al Jazeera and foreign media journalists has led to animosity against these journalists "even though they are doing their job professionally."
"Citizen arrests" have also been on the rise.
Last Friday's bloody clashes in and around Ramses Square saw The Guardian's Patrick Kingsley detained twice on the same day. He was detained in al Daher police station, near Ramses, after a citizen arrest by unidentified assailants who seized his laptop and phone. Egypt Independent's Tom Rollins has had his passport and equipment stolen by police and unidentified assailants near Ramses Square as well.
Turkish journalists have been detained by security forces for over a week.
The latest detainee is Tahir Osman Hamde, the Cairo bureau chief of Turkey's Ihlas news agency, who was arrested on Tuesday after security forces raided his office in a Cairo hotel, confiscating his computer and equipment.
"We are very worried about him as there isn't a trace of him," Ahu Kirimlioglu, the news agency's London-based production manager, told The Guardian.
The Egyptian authorities have refused to release information on Hamde, who is a Dutch citizen. İhlas is working with the Netherlands embassy to seek his release.
Turkish press reported that the only support they have been receiving is from the embassy in Cairo, with no mention of support from the syndicate.
When approached by Egypt Independent, Turkish journalists in Egypt including Turkish Radio and Television Corporation director in Cairo, refused to comment. Their explanation was that they "do not want to jeopardize the remaining cultural and commercial ties between Egypt and Turkey."
At least five journalists have been killed in the week since Egyptian forces moved in to crush demonstrators loyal to the deposed President Mohamed Morsy.
Attacks against journalists began on 14 August, the first day of the government's crackdown on the sit-ins, with the shooting of Sky News cameraman Mick Deane. Soon after, there were reports of three other journalists dying in shooting incidents: Habiba Ahmed Abd Elaziz, Mosab el-Shami and Ahmed Abdel Gawad.
Authorities have imposed a state of emergency curfew on 14 governorates but exempted journalists in order to allow them to be able to continue with their jobs.