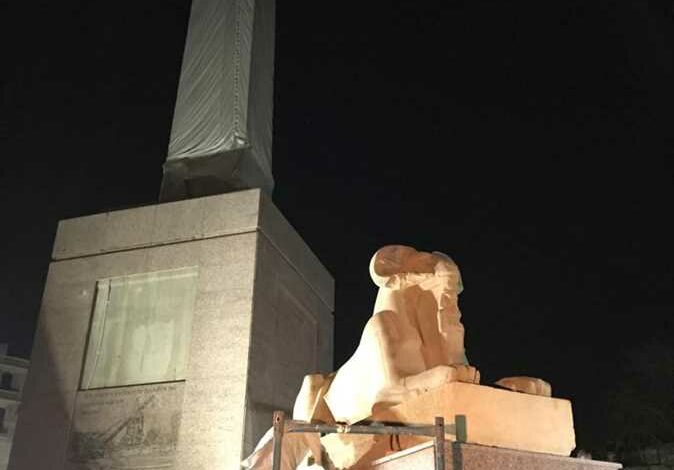 Judicial authorities have launched intensive investigations after a man climbed the obelisk of Tahrir Square and attempted to destroy one of the ancient Egyptian rams in the middle of Tahrir Square.
The security personnel in charge of securing Tahrir Square arrested the suspect while he was in the process of using a hammer to vandalize the ram statue, sources told Al-Masry Al-Youm.
After the police conducted an inspection, traces of hammer blows were found on one of the rams where the suspect hit the bottom of the ram's nose.
Investigations added that during interrogations, the accused did not comment on the incident, and showed signs of psychological disturbance as he babbled about destroying the artifacts.
Judicial authorities seized the hammer used in the incident and detained the suspect for 24 hours until the completion of investigations.
A video of the incident went viral on social media.

Sources in the Ministry of Tourism and Antiquities stated that restoration specialists moved quickly and the statue was repaired.
The sources added the fracture will only appear on very close inspection, and that the man could only hit this part of the four statues.
The Restoration Department of the Antiquities Ministry decided to conduct a comprehensive restoration process for all the rams of Tahrir Square, and the obelisk of Ramses II in the middle of the square, following the incident.
Edited translation from Al-Masry Al-Youm