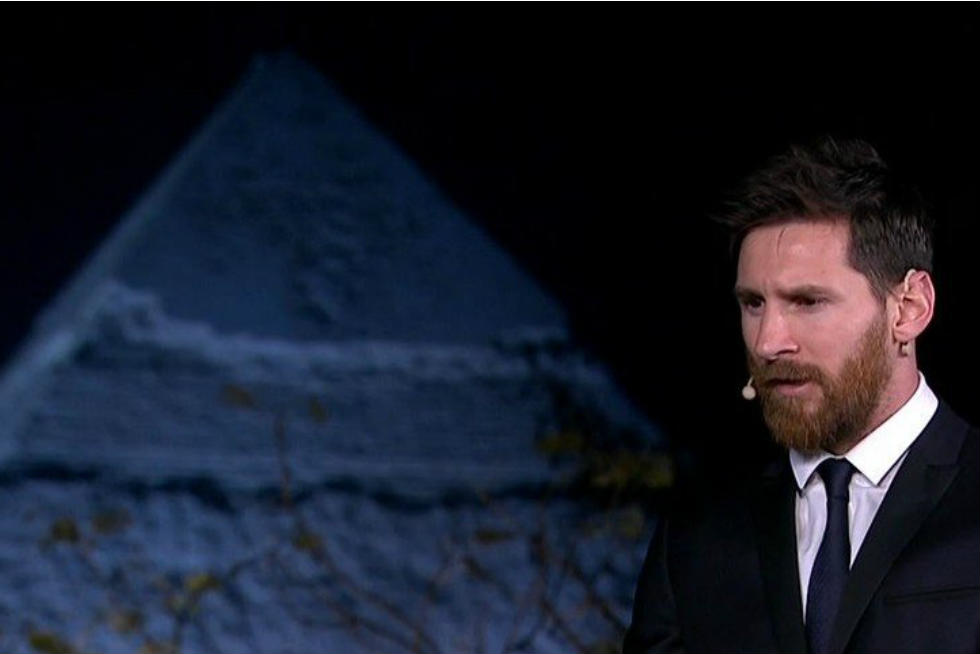 Argentinean superstar and FC Barcelona footballer Lionel Messi arrived in Egypt on Tuesday evening to launch the campaign Tour'n'Cure, a medical tourism program for the low-cost treatment of Hepatitis C patients in Egypt.
Former antiquities minister and famed Egyptologist Zahi Hawass received the footballer at the pyramids area in Giza to be his guide to the archeological site, which boasts the Great Sphinx and the Great Pyramid.
"I came here in 2007, but I couldn't explore the pyramids like today. Egypt is a country with a big history and I'm happy to visit it," Messi said during an interview with ON E satellite channel.
"It's great to be at the pyramids. It was a great moment when I entered the pramid and touched its stones, I have touched Egypt's greatness," Messi said.
Hawass explained to Messi the secrets of the pyramid's construction and the details of the newly-discovered tombs of workers, in addition to the findings of a robot which detected secret compartments inside the pyramid.
Messi asked about how Tutankhamun died and whether he was murdered as claimed. Hawass replied that a CT scan recently proved that the young king was not murdered.
Hawass explained to Messi that Egypt has 123 different pyramids, but the most significant is the Great Pyramid.
The Health Ministry, in coordination with the Tourism Ministry, announced the launch of the medical tourism program for patients with Hepatitis C, after Egypt's success in the treatment of nearly 1 million patients and an end to any waiting lists in July, coinciding with the arrival of Messi in order to promote the program.
A plan has been devised to attract millions of tourists through the medical tourism program which will include the treatment of various diseases, "as well as to explore the most promising places in Egypt in the field of environmental hospitalization," the ministry said in a press release.