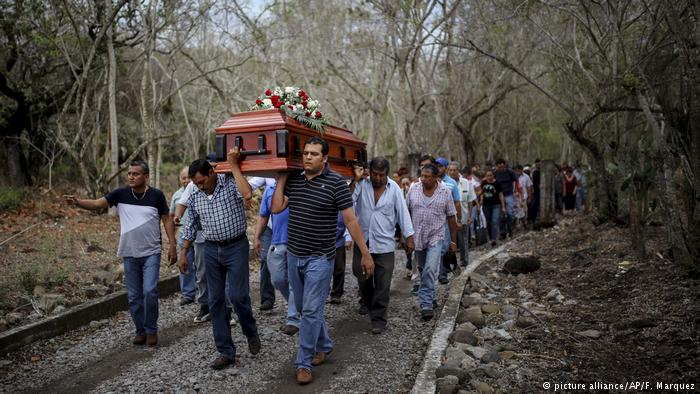 Nearly 30,000 people were killed last year, marking the worst year recorded in Mexico, the interior ministry said. But security analysts have cast doubt on the government figure, saying it's likely much worse.
Mexico witnessed nearly 30,000 murders last year, making it the deadliest year since the government started recording figures in the 1990s, the Mexican Interior Ministry reported on Sunday.
The Interior Ministry said authorities across Mexico opened 29,168 murder cases, saying that it put the country's homicide rate at 20.5 per 100,000 inhabitants. In comparison, Germany's murder rate in 2014 was 0.9 per 100,000 people, according to World Bank data.
The highest figure ever recorded in Mexico before last year was in 2011, during the peak of the Mexican government's war on drugs. That year, authorities recorded 22,409 homicides.
Analysts doubt figures
However, experts have cast doubt on the latest figures, saying the homicide rate is likely much higher.
Mexican security analysts Alejandro Hope told AP news agency that the figure is based on the number of murder investigations opened last year, not the number of victims.
Drug cartels to blame
Mexican authorities have blamed drug cartels for the soaring violence sweeping across the country as the criminal organizations attempt to fill the void left by the arrest and extradition of Joaquin "El Chapo" Guzman.
Guzman was extradited to the US last year. He stands accused of leading Mexico's notorious Sinaloa cartel, know for major cross-border drug-trafficking operations and violent attacks against rivals and security forces.
Many Mexican citizens have blamed President Enrique Pena Nieto for the high homicide rate, saying he has failed to provide basic security. On Nieto's watch, 43 teachers-in-training disappeared from the city of Iguala in 2014, a tragedy that shocked the nation.
Hope added that it also doesn't take into account that a killing may result in more than one victim. He placed the homicide rate closer to 24 per 100,000 inhabitants.