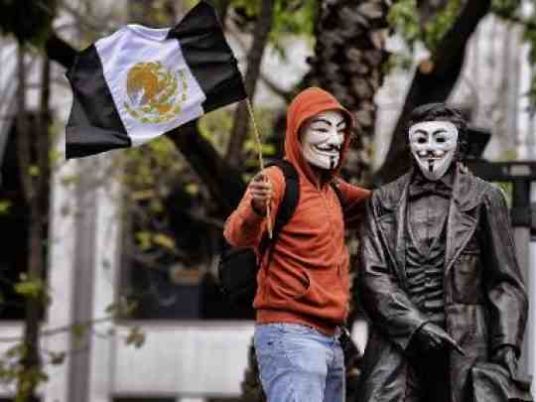 Tens of thousands marched in Mexico City on Saturday to demand answers on last year's disappearances of 43 students, piling new pressure on President Enrique Pena Nieto to clear up a case that has battered his image.
A year to the day since 43 trainee teachers went missing in the southwestern city of Iguala after clashes with local police, protesters held up banners ridiculing Pena Nieto's response to the crisis and accusing him of trying to draw a line under it.
Simmering anger over the disappearances, which exposed deep flaws in Mexico's justice system, has dashed any hopes the president harboured of turning the spotlight away from violence and lawlessness that have plagued the country for years.
His government said the 43 young men were abducted by corrupt municipal police, then handed over to be massacred by a local drug gang that believed the students had links to a rival outfit in the crime-racked, impoverished state of Guerrero.
But an international team of experts reviewing the case this month questioned the government account of how the gang members incinerated, ground up, then dumped the students' remains in a river, arguing its investigation was sloppy and full of holes.
"The people have gone back to tell the president we don't believe him, we're not idiots," said Moises Acosta, 30, one of the thousands of peaceful demonstrators. "Mexico needs to get to work on this case. It's a lie we're not going to swallow."
Parents of the students this week called for a new investigation, but as yet the government has only offered to create a new office to look into disappearances in Mexico.
Many questions remain open.
To date, Mexico has only definitively identified the remains of one of the victims. Government officials have said the task of identifying them was complicated by the fact there was so little evidence left after their bodies were destroyed.
On Friday, the government said it would send more remains for examination by forensic experts in Innsbruck, Austria.
Prosecutors accused the mayor of Iguala and his wife of being in league with the drug gang, though they were just two among dozens of suspects arrested over the crime, which sparked international concern over the lack of law and order in Mexico.
The apparent massacre became a symbol of state incompetence and corruption, and a few weeks after the events Pena Nieto got embroiled in an conflict-of-interest dispute over homes his wife and his finance minister bought from a government contractor.
Conflated by Pena Nieto's critics, the two cases eroded the president's credibility and some demonstrators on the grey afternoon used the march to attack Pena Nieto on both counts.
"Bad global example, conflicts of interest, government crimes … Pena Out!," ran one placard.
Pena Nieto marked the anniversary of the events in Iguala on Twitter by pledging to bring those responsible to justice.