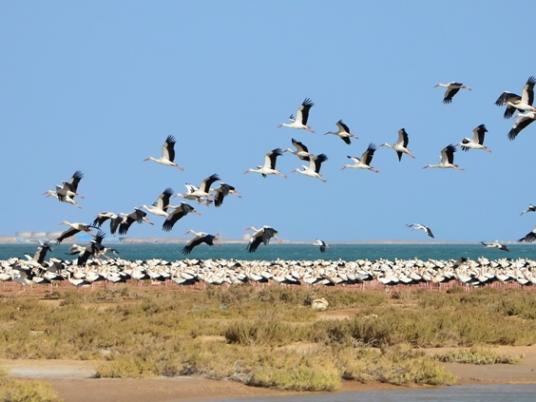 As spring migratory season begins, hundreds of thousands of migratory birds will be flying back up to Europe through Egypt after spending the winter down south. However, aside from the problem of overhunting that migratory birds continue to face as they pass through Egypt, certain high-flying soaring birds — such as cranes, storks and pelicans — face a unique problem that conservationists are now working to turn into a national opportunity.
The primary route for these soaring birds lies up and down the eastern coast of Egypt along the Red Sea, mainly because there is a consistent supply of hot windy air which allows these birds – that often have to travel thousands of kilometers — to glide along in order to facilitate the journey. However, to the frustration of many conservationists, this is also Egypt's primary area for setting up wind farms — such as the one in Zafarana — to reach the Ministry of Electricity's goal of having 20 percent of Egypt's energy provided by renewable energy sources by the year 2020.
When the Zafarana wind farm construction began in the early 2000s, there was less of a concern towards migratory birds, as the hot windy route by which the birds travel through was quite broad. However, as plans for expansion continue down the coast, an overlap or bottle neck situation begins to arise, as the migratory route becomes thinner throughout Gebel Zeit, meaning that if large scale construction continues as is, migratory birds will be met with an barrier of "killing machines."
"It's not just the turbines themselves, but the huge power lines and infrastructure that surround the turbines as well," says Sherif Baha El Din, bird specialist and founder of the NGO Nature Conservation Egypt (NCE).
Usually these birds fly quite high, but as they come to Egypt, and they are face with more arid climates and sandstorms which disturbs navigation and visibility, many soaring birds tend to fly lower and/or land on Egyptian soil for a while. It is uncertain exactly how many birds are killed each year due to the expanding wind farm collisions and electrocutions, but the number is believed to be in the thousands.
"If you go there, you see swarms of beautiful, large wing birds in the thousands flying over the horizon," says Baha El Din. "You then look behind you and there's kilometers after kilometer of these spinning turbines and it just looks like an incoming massacre."
The wind farm versus migratory bird route dilemma in Egypt is not new and has been recognized by environmentalist both locally and globally for many years now. Last December a workshop — involving the World Bank, BirdLife International, various foreign consulting firms as well Egyptian governmental institutions and NGOs — was held to discuss how to mitigate bird deaths through these regions.
However, what is changing is the aim of local conservationists to turn this problem into a national opportunity.
In other countries that face similar problem, such as in the US, particularly with large wind farms in Texas, there is shutdown radar installed into the farm and rangers on the lookout to mitigate bird deaths. However, in Egypt, such safeguards do not exist, and in fact, even when doing Environmental Impact Assessment (EIA) reports, the Egyptian government has usually resorted to paying foreign consultants large sums of money to do the reports, creating what Mindy Baha El Din, Sherif's wife and co-founder of the NCE, calls the "khawaga (foreign) donor dependency."
Therefore in order to counter this, the NCE, in addition to some of the consultants, are now changing the scope of their operation to use the national dilemma to create employment opportunities for Egyptians and keep the money within the Egyptian economy, as well as create incentives for long term investments in wind energy — such as, for example, the Desertec Initiative.
According to Sherif, there seems to be a general consensus and belief in this vision from all stakeholders: Egyptian government, foreign consultants and global conservation groups, among others.
As part of this, last week, Sherif spent time in Gebel Zeit with European consultants, training and informing interested Egyptians on how to carry out comprehensive EIAs with regards to the issue, who can also potentially serve in the future as wind farm specialists who can shutdown the machines and take measures during mass migration hours. According to Sherif, response from those in attendance has been very positive.
"Interested Egyptians is much more important than 'skilled or technically fluent' Egyptians, because even if you have a PhD in Biodiversity or Renewable Energy doesn't necessarily mean you want to sit for hours on end staring into the horizon in the hot wind taking notes," says Baha El Din, stressing the time consuming and difficult nature of the job.
Amongst those interested so far, have been mostly university graduates as well as protectorate rangers. However, such training and building of national capacity will take a long time — at least a couple of years, according to Baha El Din. So in the meantime, foreign consultants and local experts will stay on board to mitigate another migratory massacre this spring.
"It's a fringe issue, but it's an important one because not only does it build good international relations, it uses unique environmental dilemmas to develop national capacity, which is ideal," says Baha El Din.