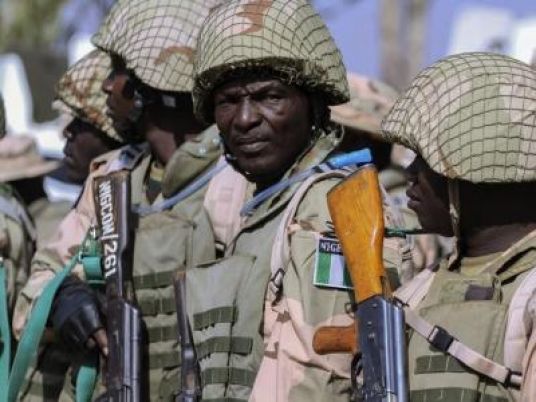 The Nigerian army has swept into villages in the southern swamplands in an operation to crush the Niger Delta Avengers group, but allegations by residents of brutal tactics and rapes by some of its soldiers risk stoking anger in the region.
The army has vowed to stop the militant group which has claimed a string of attacks on oil pipelines which have cut Nigeria's oil output by half a million barrels a day to a 20-year low. It denies the allegations of abuse.
The military has deployed dozens of gunboats in the Delta swamps to search a cluster of villages that are home to a former militant leader whom officials link to the previously unknown group, residents said.
Community leaders and a security source said the sweep has failed to produce results, despite the arrest of some 15 suspects, while relations with locals already angered by deep poverty and oil spills have worsened.
"Our people are very angry with the arrest of innocent people in the name of looking for pipeline vandals," said Eric Omare, a spokesman for Ijaw Youth Council, which represents the main ethnic group in the Delta region.
Five of the arrested were released after it turned out they were oil workers unrelated to the militants. Activists say several students who also had no connection to the Avengers remained in custody.
In interviews with Reuters, the first foreign news outlet to visit the Oporoza community raided by the army, 10 villagers said soldiers had searched their houses in the middle of the night after arriving in gunboats and surrounding the village.
Two villagers said they were raped, while two others reported looting. One villager said he was struck by a soldier with the butt of a gun.
"About 3 a.m., military men invaded our community. Four of them stormed my house and broke the doors," 50-year old Ebimobore Oboivu said, wailing in front of her hut in the creeks criss-crossed by oil pipelines.
"Two them raped me as the other two pointed guns at my head," she said.
Army spokesman Rabe Abubakar denied troops had used force or raped anyone when searching Oporoza. "The reason we are there is because of some criminal guys who by all means decide to do unholy and inappropriate acts against their country," he said.
But the Delta state government, under whose jurisdiction the community falls, has urged the military to launch an investigation. "This is not the first time such allegations are made," state government spokesman Charles Anaigwu said.
A smashed window and bullet holes could be seen at one house and one hut with an iron roof. A television set inside a house had a bullet hole from a gun fired by one of the soldiers, villagers said.
A second woman, Simply Timi, also described being the victim of a gang rape. "I heard a loud bang on my door with three army men. One of them pinned me to the ground and they all raped me."
President Muhammadu Buhari has launched a reform of the army which has long faced accusations of abuses. But rights groups routinely accuse soldiers of detentions without arrest warrant, looting and beating of prisoners.
In April, the United States urged Nigeria to investigate a report by Amnesty International that soldiers killed hundreds of Shi'ite Muslims in the northern city of Zaria in December. The army has said it acted in self-defence after the sect had ambushed a convoy.
Calls for inquiries
Oporoza, at the centre of a group of villages, is home to Government Ekpemupolo, known as Tompolo, a former militant leader who laid down arms with other commanders in 2009 under an amnesty promising generous cash payments.
Buhari, faced with a revenue squeeze due to low oil prices, has cut funding for the amnesty plan, causing widespread resentment in the Delta, where the plan also funds job training for the unemployed.
Officials link Tompolo with the attacks, saying they began in January, around the same time that a court issued an arrest warrant for him on graft charges, prompting him to go into hiding. Tompolo has denied any link to the Avengers.
Security officials say villagers have been hiding militants like Tompolo.
Soldiers ransacked Tompolo's compound and searched dozens of huts but a Nigeria-based security source, asking not to be named, said the army sweep had not generated any leads about who was behind the militant group.
"You can't ruin the life of a whole community because of one man," said Nelson Okagbami, an Oporoza community leader.
He said he saw soldiers dragging away one wounded teenager. "Bullets were flying around. I had to hide in a church," he said.
At a meeting earlier this week, Delta state governors agreed with Vice President Yemi Osinbajo to address local grievances. But in Oporoza people fear the army will come back.
"Soldiers pointed guns at me and I fell to my knees begging before they left me alone," said Tari Maka, a food vendor in Oporoza. "When will this end because we don't even understand what is happening?"