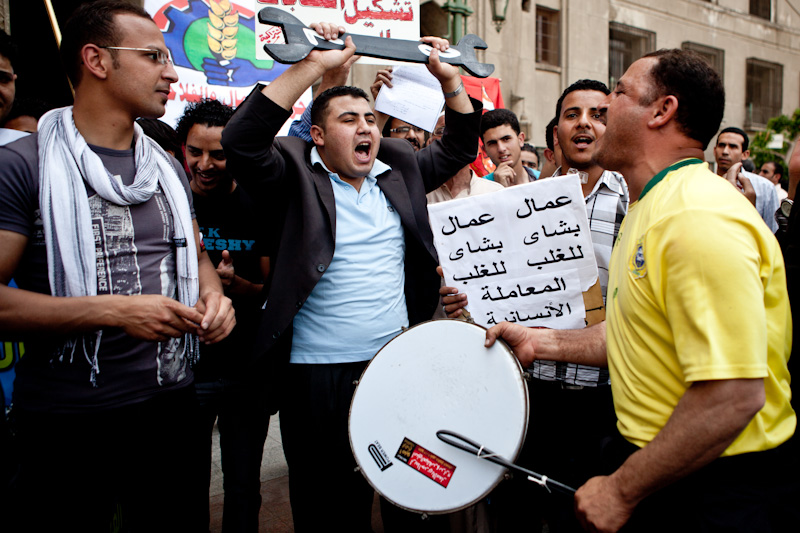 Changes to the Egyptian Trade Unions Federation leadership would not promote more than four Muslim Brotherhood members to the boards of labor unions, Manpower and Immigration Minister Khaled al-Azhary said Monday, adding that he would personally approve any changes.
In statements quoted by state-run news agency MENA, Azhary said elections for the state-affiliated ETUF have been postponed for six months. He added that the current union's term has been extended with the exclusion of members over 60, as per the new law issued by President Mohamed Morsy as published in the Official Gazette on Sunday.
ETUF chairman Ahmed Abdel Zaher said on Sunday the union would file a court challenge against the new law. The head of the construction workers union had accused Azhary, a Brotherhood affiliate, of paving the way for a Brotherhood takeover of the ETUF through amendments to trade union laws.
Azhary assured that he is ready to discuss the new measures with incumbent labor leaders.
The amendments were introduced amid high political tensions as Morsy issued a constitutional declaration on Thursday which stipulated that his decisions cannot be challenged in court. Since Friday, over 500 people have been wounded in protests against the declaration.
Azhary stressed he had no knowledge of the timing of the constitutional declaration. He argued that Sunday was the last day of the syndicate's term, and added that the law had to be issued or else the ministry would be mandated to form new labor union boards immediately.
Independent trade unions would not be affected by the new law because they "do not enjoy legitimate status," he said.
The minister stressed that the extension of the trade unions' terms is designed to produce new leaders, rather than "Brotherhoodize" their boards.
Opposition groups accuse Morsy, a former Brotherhood leader, of attempting to install group loyalists in all executive posts.