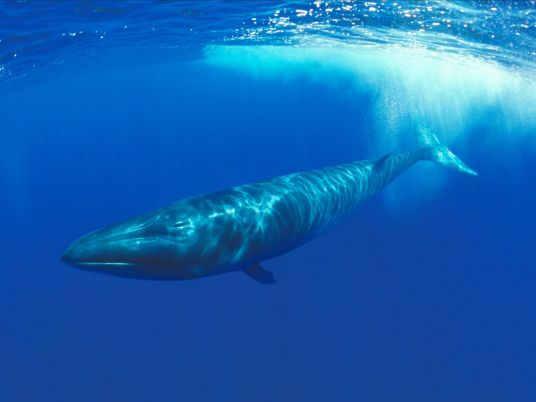 Marine experts from the Environment Ministry are continuing to monitor the status and movements of a small fin whale spotted on Egypt's north coast last week, according to Minister Khaled Fahmy.
The animal, which was spotted at the Marina beach resort on Tuesday last week, was later seen in waters off the Marbella resort.
By Friday at 9 a.m., the animal was seen about 800 meters off the coast, having found its way into an area of deeper water linked to the open sea.
Fahmy said the ministry experts were aiming to help the animal into the open sea, where it will be safer, emphasising that hunting whales is prohibited.
In 2010, Egypt signed an agreement on the protection of certain marine mammals in the Mediterranean Sea, and whales are included on that list, said Fahmy.
According to the assessment of the experts involved, the whale does not seem to be sick or injured.
The ministry allocated two phone numbers for members of the public to call with any new sightings of the whale: 01063195177 and
01282614440.

Edited translation from Al-Masry Al-Youm