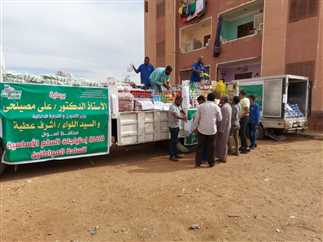 Minister of Supply and Domestic Trade Ali al-Moselhy instructed that mobile vehicles be dispatched to aid places affected by torrential rains in Aswan, according to the official spokesperson for the Ministry of Supply Ahmed Kamal.

Kamal clarified that on Monday, the Egyptian Company for Wholesale Trade, affiliated with the Holding Company for Food Industries, in cooperation with the Aswan Directorate of Supply, deployed six mobile vehicles in the areas affected by torrential rains in Aswan, including Aboul Rish, Komombo, West Draou and al-Shallal, to provide food commodities to citizens in those places at great discounts.
The prices of commodities were as follows: LE8.5 per kilo of sugar eight LE per kilo of rice, LE21 for a 800-gram package of oil, and LE25 for the one liter of oil, he said.
The Egyptian Company for Wholesale Trade will also dispatch on Tuesday more vehicles, Kamal said.
Kamal confirmed that Moselhy instructed the Supply Directorate in Aswan to increase the strategic stock of flour in bakeries and follow up the work moment by moment to provide all citizens their needs for subsidized bread.
Bad weather hit Aswan and the Red Sea governorates over the course of Friday and Saturday as devastating torrents fell in Aswan caused the destruction of homes, flooded streets, and disturbed enough scorpions to sting over 500 people.
Aswan was exposed for the first time in its history to heavy thunderstorms in conjunction with thunder, snowfall and strong winds, which caused flooding of streets, power outages in homes, water stations and utilities, the collapse of many homes and damage to furniture and electrical appliances, and winds uprooted trees and electricity towers.
The city of Aswan also spent a pitch-black night after a power outages due to power supply stations going out of service.
The rains irritated scorpions out of their burrows filled with torrential water in the sandy areas surrounding several settlements by Aswan.
The scorpions stung 503 citizens who transferred to hospitals to receive the necessary medical treatment.
Governmental bakeries also stopped working due to water cuts.