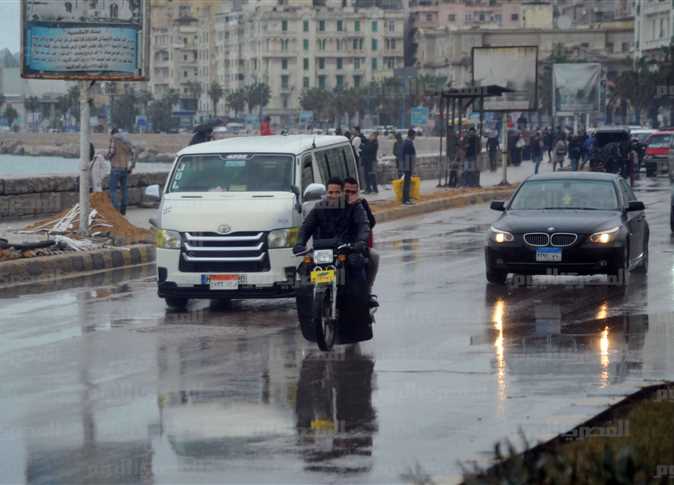 Meteorologists predict moderately cold weather during the daytime on Thursday in Greater Cairo, Lower Egypt, northern Upper Egypt and northern coasts. Moderately warm weather predicted on South Sinai and southern Upper Egypt
The weather will be cold at night, and very cold at late night in all parts of the country.
Maximum temperatures:
Alexandria: 17C
Cairo: 18C
Qena: 20C
Luxor: 21C
Aswan: 22C
Hurghada and Sharm el-Sheikh: 23C
Light to medium rainfall at 40 percent chances are expected on the northwestern coasts and Lower Egypt. A 20 percent chance of light rainfall is expected for southern parts of Lower Egypt  and may extend to Cairo by evening.
Waves in the Mediterranean Sea will be moderate ranging between 1.5 and two meters in height with northwestern surface winds. Waves in the Red Sea will be moderate to rough, ranging between 1.5 and 2.5 meters in height with northwestern surface winds.
The Egyptian Meteorological Authority announced that rains will continue to fall on the northern coasts until Monday, and Halayeb and Shalateen during Wednesday and Thursday, with temperatures continuing to fall at night.
The temperature at night in Cairo and southern Upper Egypt will be 10C degrees in Cairo, dropping to seven degrees in northern Upper Egypt.
Meteorologists expect unstable weather to prevail over Alexandria, the northern coasts, and the northern delta, and low and medium clouds will form, accompanied by moderate rain.
They advised citizens to wear heavy winter clothes because of extreme cold at night and in the early morning.