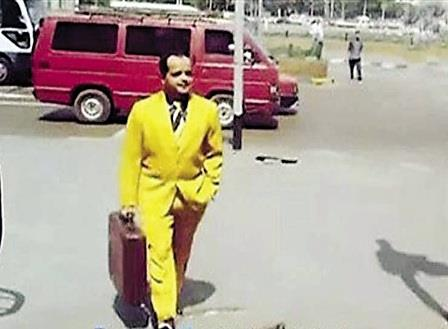 During a symposium and ceremony to honor actor Mohamed Henedi at the American University in Cairo (AUC), the Egyptian star unveiled plans for a sequel of his movie, "Saeedi fel Gamaa al-Amrikeya" (An Upper Egyptian in the American University) – to be released mid-2019.
The film was a milestone for Henedi's career 20 years ago.
AUC hosted the ceremony on the occasion of the movie's 20th anniversary, and it was attended by scriptwriter Medhat al-Adl.
Henedi inaugurated the event through a performance on "Kajweloh", a song presented in Saeedi fel Gamaa al-Amrikeya, and then songs from his other movies.
Henedi revealed that he still keeps the costumes of the movie's protagonist, Khalaf.
Despite the character's strange costumes, Henedi noted, Khalaf had a pride and dignity which he tried to preserve throughout the movie.
Henedi recounted memories of the first part of the film from behind the scenes, which he described as "happy", due to the love and harmony that existed among the movie team.
The actor encouraged youth to have a strong will to be able to pursue their dreams, adding that nothing is impossible. He cited failures and difficulties at the beginning of his life and career, and his perseverance to achieve his goal.
Adl reported that he has finished writing the sequel.
It is not yet decided if the same heroes of the first film will take part in the second film or not, Adl mentioned, but they might appear as guests of honor.
The first film starred Ahmed al-Sakka, Ghada Adel, Mona Zaki, Tarek Lotfy, and Hany Ramzy.
Edited translation from Al-Masry Al-Youm.