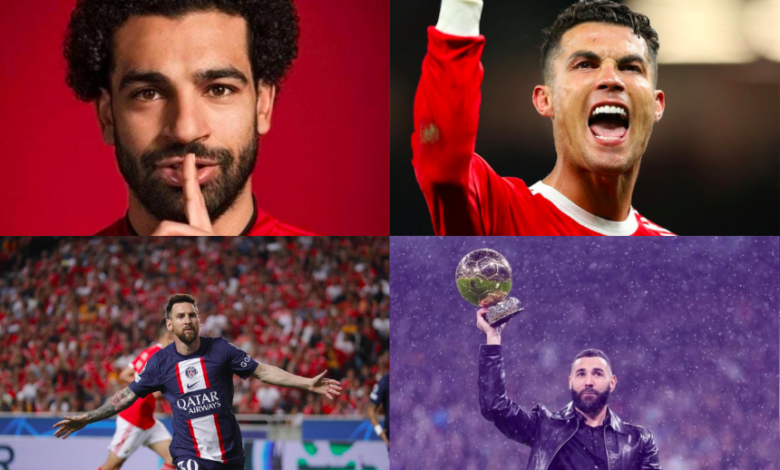 The Globe Soccer Awards officials announced the list of players nominated to win "World Player of the Year for 2022".
The Egyptian international Mohamed Salah topped the list, which also includes French Ballon d'Or winner Karim Benzema.
Liverpool's top scorer, Salah, is competing with 24 of the world's most prominent stars for the award for the best player in the world in the 13th edition of the Dubai Globe Soccer Awards, which will be revealed on November 17 at a grand ceremony in Dubai, UAE.
Salah is competing with a great series of top players in the world such as Portugul's Cristiano Ronaldo, Argentine's Lionel Messi, Poland's Robert Lewandowski and Norway's Erling Haaland.
The full list of players nominated for the 2022 Globe Soccer Awards is as follows:
Mohamed Salah (Liverpool)
Trent Alexander-Arnold (Liverpool)
Luis Diaz (Liverpool)
Joao Cancelo (Manchester City)
Phil Foden (Manchester City)
Kevin De Bruyne (Manchester City)
Riyad Mahrez (Manchester City)
Erling Haaland (Borussia Dortmund, Manchester City)
Casemiro (Real Madrid, Manchester United)
Karim Benzema (Real Madrid)
Thibaut Courtois (Real Madrid)
Vinicius Junior (Real Madrid)
Luka Modric (Real Madrid)
Sebastian Haller (Borussia Dortmund)
Robert Lewandowski (Bayern Munich, Barcelona)
Ciro Immobile (Lazio)
Harry Kane (Tottenham Hotspur)
Joshua Kimmich (Bayern Munich)
Sadio Mane (Liverpool, Bayern Munich)
Kylian Mbappe (Paris Saint-Germain)
Lionel Messi (Paris Saint-Germain)
Neymar da Silva (Paris Saint-Germain)
Christopher Nkunko (Leipzig)
Cristiano Ronaldo (Manchester United)
Son Heung-min (Tottenham Hotspur).
Salah keeps on making records
Salah continues to appear strong in the competition for the Ballon d'Or in recent years, as he won fifth place in the 2022 edition.
Salah became the second player in the history of Liverpool, to score in four consecutive league matches against Man United, after Dick Forshaw in 1925-1926 and 1926-1927.
Finally, Salah was able to equal Gerrard's number as the second highest scorer for Liverpool in the English Premier League, with 120 goals.
Salah joined Liverpool coming from Italy's Roma in 2017, and was announced top scorer in the English Premier League on three occasions.
He recently renewed his contract with the Liverpool until 2025.
The football superstar was nominated for the Sports Personality of the Year award in the UK in 2022, presented by the Ethnicity Awards.
Salah was crowned with several individual awards during 2022, most notably PFA Players' Player of the Year, FWA Footballer of the Year, and the player of the year in Liverpool FC.
He also won the Golden Boot award with 23 goals, and the award for the best playmaker with his assists in 13 goals, in the Premier League competition last season, and he was crowned with Liverpool in the FA Cup and EFL Cup titles.