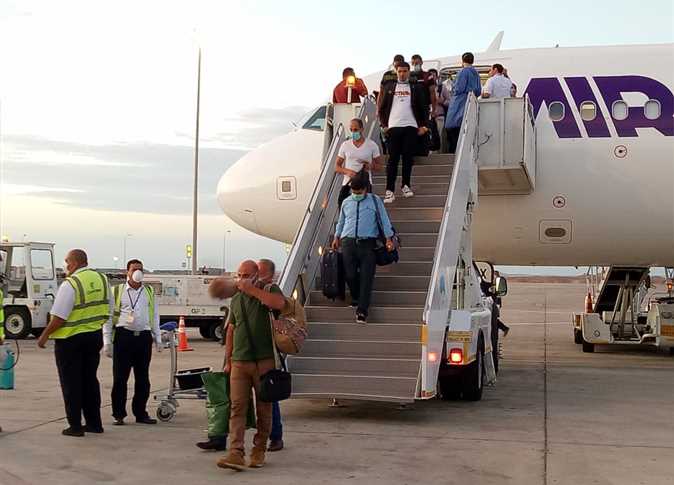 The Egyptian Ministry of Manpower announced Saturday that 20 flights from Kuwait to various Egyptian airports are set to arrive with 3,153 stranded Egyptian workers.
The statement said that the Kuwait airport witnessed the departure of 34 flights carrying 5,453 passengers to six countries: Egypt, India, Ethiopia, Turkey, Iran and Qatar, including 20 flights to Egypt.
Twenty flights will arrive at four Egyptian airports on Saturday, being the Cairo Airport, Alexandria, Assiut and Sohag.
The first flight departed Kuwait Airport at 2:35 am with 168 workers on board, while the final flight is set to leave Kuwait at eight pm with 150 workers on board.
Egyptian authorities abolished earlier this month the mandatory seven-day quarantine imposed on Egyptian citizens returning from abroad on charter flights organized by the Egyptian Ministry of Civil Aviation. Passengers are instead obliged to self-isolate at home for several days to make sure they do not have coronavirus.
Egypt's Ministry of Health in May reduced the quarantine period for Egyptian returnees to seven days, down from 14.
More than 20,000 Egyptians have returned from various countries since the pandemic began, and there are planes yet to take off that will bring home stranded citizens from different countries.
Egypt on Friday confirmed 1,577 new coronavirus cases, bringing the country's number of confirmed total cases so far to 41,303.
The total number of COVID-19 deaths has now reached 1,422 nationwide, after announcing 45 deaths.
The newly infected cases are all Egyptian nationals, Health Ministry Spokesperson Khaled Megahed said, adding that the total number of fully-recovered cases rose to 11,108, all of whom have been discharged from isolation hospitals.
Around 417 left quarantine on Friday.