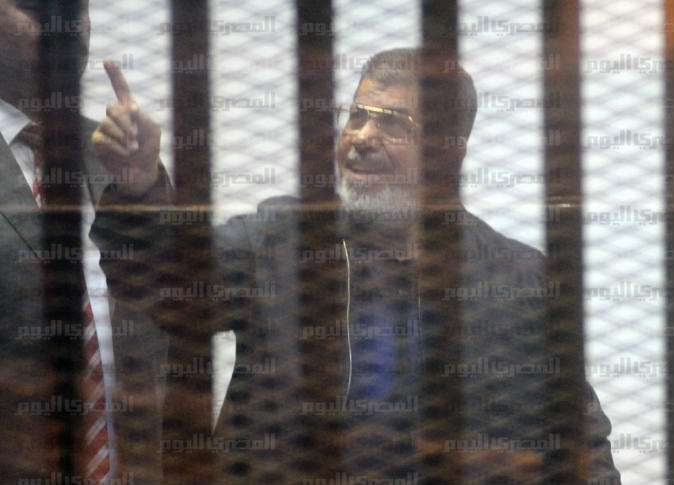 The Cairo Criminal Court resumed the trial of former president Mohamed Morsi and 24 others on Saturday on charges of "insulting the judiciary".
The court session is scheduled to begin with a hearing from the defense.
The list of accused includes lawyers, journalists, activists and figures associated with the Muslim Brotherhood. Among those to be tried are former Chairman of the People's Assembly Mohamed Saad al-Kitatny, former Supreme Guide of the Brotherhood Mohamed Mahdy Akaf, members of the People's Assembly Mostafa al-Naggar, Hamdy al-Fakhrany, Amr Hamzawy and Mamdouh Ismail, in addition to the judges Muntasser al-Zayat and Assem Abd al-Magid and Tawfiq Okasha and Abd al-Rahman Youssef and Abd al-Halim Qandil.
The judicial investigation commission accused the defendants of "humiliating and insulting the judiciary and its judges by inciting abuse, scorn and hatred of the courts and the judiciary through publication and broadcast on television, radio and social media."
Morsi is charged with having accused Chancellor Ali al-Namr of rigging the 2005 parliamentary elections, a claim he made in a speech on June 26, 2013. The Court of Cassation and an investigatory judge said that Morsi's statement was not backed up by facts.
Last June, the Cairo Criminal Court sentenced Morsi to death for "storming prisons" following the 2011 uprising.
He was also sentenced to life imprisonment, or 25 years, for "collaborating with foreign entities and organizations, including Hamas and Hezbollah".
At the end of April last year, the court sentenced Morsi to 20 years in a top-security prison and five years surveillance over charges of supervising acts of violence, detention and torture.
Morsi is also on trial for charges of "smuggling documents to the state of Qatar".
Edited translation from Al-Masry Al-Youm