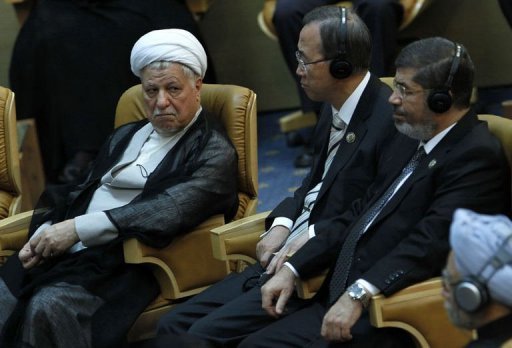 Presidency spokesperson Yasser Ali said Friday that the meeting Thursday between President Mohamed Morsy and his Iranian counterpart Mahmoud Ahmadinejad, on the sidelines of the Non-Aligned summit in Tehran, did not address the issues of bilateral relations or raising the level of diplomatic representation between the two countries.
Ali told Al-Masry Al-Youm that the meeting did not discuss the issue of opening the Egyptian Embassy in Tehran, and the re-normalization of relations between the two sides, but focused on the issues on the regional arena, especially the situation in Syria and Palestine.
He quoted Morsy telling Ahmadinejad, "The public opinion in the Arab region believes that Iran's support of the Syrian regime distances it from the Arab world."
According to Ali, Morsy reminded Ahmadinejad that the Arab people sided with the Iranian people when the Shah attacked them with tanks. Morsy was likely referring to the crackdown on demonstrators by Shah Mohammad Reza Pahlavi in 1978, during the demonstrations that eventually toppled him.
"When we were young in 1979, we were against the Shah and the massacres he committed, and you must respect the will of the people and peoples' desire for change," Morsy said.
Iranian Deputy Foreign Minister Hossein Amir Abdollahian told Iran's Arabic-language broadcaster Al-Alam on Thursday that Ahmadinejad and Morsy "discussed ways to boost the level of Tehran-Cairo relations."
Morsy's visit to Iran was the first by an Egyptian president since Iran's Islamic revolution in 1979. Diplomatic relations between Cairo and Tehran broke down immediately after Iran's revolution over the Egyptian government's peace treaty with Israel and its support for the overthrown Shah.
Edited translation from Al-Masry Al-Youm