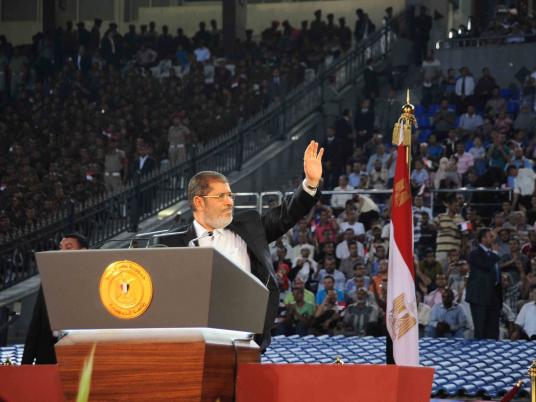 President Mohamed Morsy has intervened to defend former military head Hussein Tantawi and former Chief of Staff Sami Anan after a newspaper reported that they were banned from travel pending investigation.
Morsy stressed during an Armed Forces training Thursday his "absolute" rejection of what some papers have published about former military leaders.
"There have been changes in newspaper leadership after reports that had no basis were published, and the responsible person is being interrogated," Morsy said. "As president of the republic and as commander-in-chief of the Armed Forces, I stress my full respect for current and former military leaders."
"It is no secret that I contact Field Marshal Hussein Tantawi and Lieutenant General Sami Anan on a regular basis. The last of those communications was on Wednesday," Morsy added.
State-run Al-Gomhurriya newspaper published Wednesday that judicial authorities would issue within hours a decision banning Tantawi and Anan from travel.
Shura Council speaker and head of the Supreme Press Council Ahmed Fahmy suspended the paper's chief editor, Gamal Abdel Rahim, and appointed Abdel Azim al-Bably in his stead until an emergency SPC meeting can be held.
An official military source told state TV's website Wednesday that the Armed Forces are deeply dissatisfied over the story and consider it a great insult to the leaders and symbols of the Armed Forces.
Abdel Rahim said that he was dismissed for publishing news that Tantawi and Anan would be banned from travel for charges of illicit gain, not that they were already banned. "Even Mubarak did not do something like this," he told Al Jazeera Mubasher Misr Wednesday. "The Brotherhood knows nothing about freedom of the press," he added.
He said the group is settling political scores with him for writing a series of articles under the title "Renegade from the Brotherhood's Mantle," which were meant to convey that he would be independent from the group if they chose him for the post.
The Revolutionary Youth Union denounced Abdel Rahim's suspension, describing the decision as "terrorism against newspapers and journalists."
The decision is another example of the Muslim Brotherhood's domination of newspapers, the union said in a statement.
Union spokesperson Tamer al-Qady called for "the liberation of state press from the domination of a single faction as it should represent all segments of society." He stressed the union's solidarity with Abdel Rahim until he resumes his position.