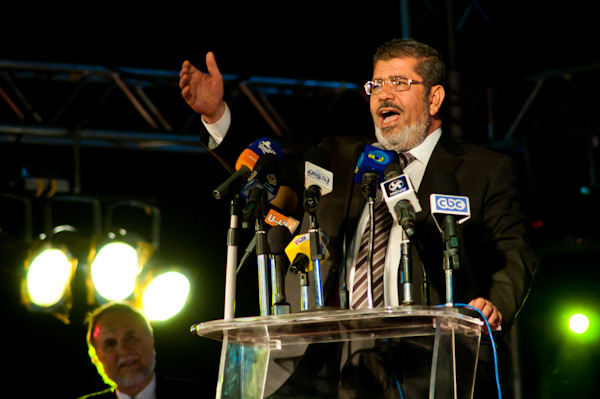 "I understand the Egyptian people and their suffering," said the Freedom and Justice Party's presidential candidate Mohamed Morsy in a press conference on Wednesday. He would serve Egyptians if he wins the presidency, he added.
"From now on, we will not allow carcinogenic goods into the country, nor will we accept contaminated water, living in cemeteries or the death of our children drowned at sea or burned in trains. We will move with the people towards a respectable future far from the ugly past," Morsy said.
Morsy issued a document that includes 15 pledges that solve everyday problems of Egyptian citizens through the restoration of security and stability, controlling traffic, saving fuel, improving the quality of bread and solving the garbage problem.
Morsy said his presidential team would include deputies, assistants and advisers and that it would include all national forces, youth, women, Salafis and Copts, as well as patriotic former presidential candidates.
He also vowed to form a coalition government made up of various national forces and competent figures, and said that the choice of prime minister would be based on competence. Morsy also pledged that the Freedom and Justice Party would not represent the majority in the new government.
The remaining pledges include pension increases, tax cuts, agricultural loan forgiveness for farmers and the provision of employment opportunities.
Edited translation from MENA