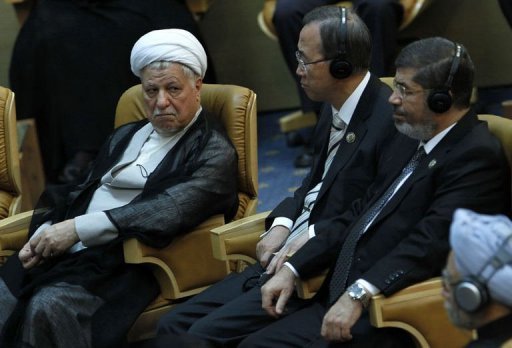 Egypt does not interfere in the internal affairs of other countries and does not export its revolution, President Mohamed Morsy said on Wednesday in a speech during the 138th regular meeting of Arab foreign ministers at the Arab League offices in Cairo.
Morsy added, however, that Egypt supports nations that rise up to protect their dignity.
"There is still an opportunity to stop the bloodshed," he said, addressing the Syrian regime. "Do not take the right decision at the wrong moment. There is no place for denial and one-upmanship. Do not listen to those who lure you to stay in power. The Syrian people have said clearly that they want change and not more wasted time on reform."
The president called on Bashar al-Assad's regime to learn its lesson from history, saying, "Now is the time for change. There is still some time to stop the bloodshed. If you do not stop the bloodshed, it will all go down in history. We stand by the Syrian people to gain their full rights without interfering in their internal affairs."
Morsy added that Egypt is committed to the Arab world's causes, which were given fresh momentum by the 25 January revolution.
He also said that Arabs' ability to face challenges depends on their ability to develop joint action.
Morsy emphasized the need for protecting Arab countries' sovereignty over their land and said cooperation could only take place on the basis of a clear commitment to that sovereignty.
The Syrian delegation recently walked out on Morsy's speech in the 16th Non-Aligned Movement summit in Tehran, after Morsy said that the Syrian regime had lost its legitimacy.
Morsy told the member states that they should support the Syrian revolution and called Assad a tyrant. He also called for a purely civilian state in Syria, and to support the students of the Freedom and Justice Party in Syria to help the country move toward a democratic system and prevent a civil war or future sectarian clashes.
Syrian Information Minister Imran Zoubi attacked Morsy for his speech, saying it constitutes unacceptable interference in Syrian affairs.
Edited translation from Al-Masry Al-Youm