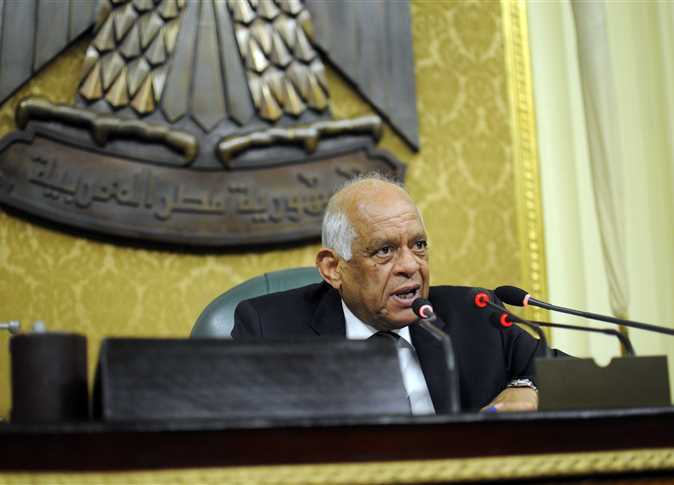 The dispute between Speaker of the House of Representatives Ali Abdel Aal and the Mostaqbal Watan Party (Future of the Nation), who hold a parliamentary majority, has escalated after the party denounced an earlier statement from Abdel Aal.
Abdel Aal's statement said that he rejected the existence of "lobbies" inside the parliament with the aim of influencing MPs or directing them to reject certain articles in the constitution.
In the statement, Abdel Aal addressed the head of the Mostaqbal Watan Party's parliamentary bloc Atef Nasser during a parliament's plenary session, saying: "I will not accept this method, every time you interrupt… I will not accept the existence of lobbies in the parliament even if I have to leave this position. I will not accept the chaos that occurs during the discussion of legislation, as happened in the constitutional amendments when some tried to direct MPs to reject certain articles".
In response, the party said the statement had nothing to do with reality and that the party acts only to achieve the national interest of Egypt. They pointed to the improved performance of the parliament on legislative files thanks to efforts from MPs of the Mostaqbal Watan Party.
The party called on Abdel Aal to review his statements, take into account his political responsibility as the parliament speaker, and avoid personal disagreements.
Mohamed Sabry, the party's parliamentary affairs secretary, said that "We are not in conflict with anyone, we are all in the same boat."
The party's statement was necessary to show the truth, he added, stressing that the party works to achieve the nation's higher interests.
Sabry told Al-Masry Al-Youm that the party's stance has been made clear in the statement and will not take any other formal response to Abdel Aal's statements.
The House of Representatives approved the constitutional amendments on April 16. The amendments were approved by 531 MPs, rejected by 22, while one abstained from voting.
The Mostaqbal Watan Party was founded in 2014. It ran the 2015 parliamentary elections as part of the 'For the Love of Egypt' electoral alliance. The party is known for supporting the policies of President Abdel Fattah al-Sisi and the IMF-backed economic reforms.
Edited translation from Al-Masry Al-Youm