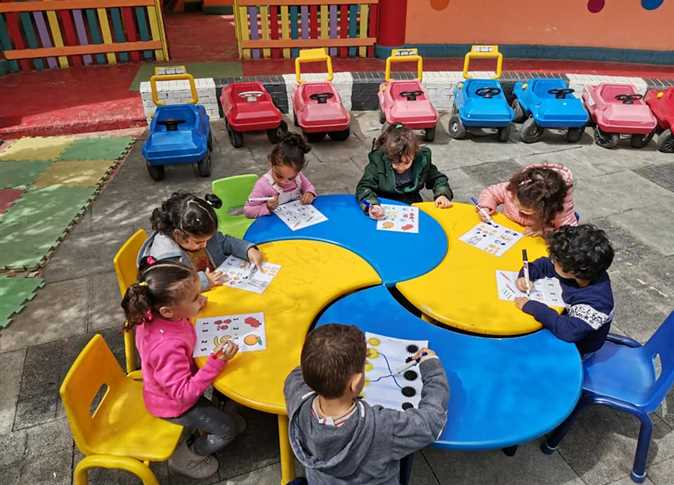 As Egypt prepares for a gradual reopening, opinions on the reopening of nurseries are varied, with mothers especially expressing fears over the matter.
After a three-month-long closure, nurseries in Egypt are set to reopen soon, part of the government's "coexistence plan" for dealing with the COVID-19 pandemic.
Solidarity Minister Nevin al-Qabaj announced that supervisors at nurseries will be obligated to wear gloves and face masks. She added these rules will not apply to children because it may be more harmful than good.
Qabaj added in a phone call to the television program "Hatha al-Sabah" (This Morning) presented by Asma Mostafa that health and behavioral guidelines will be applied at nurseries for a some time, adding that children should be taught these guidelines to better protect themselves.
Qabaj announced the allocation of a hotline at the Health Ministry in anticipation of any emergency, so that the ministry will be able to address the situation immediately.
According to the minister, the decision to reopen will be applied with caution, and could be suspended again if any children come to be harmed.

In previous statements, Qabaj revealed that nurseries will operate four days a week only, while Thursday, Friday and Saturday they will be closed. She stressed the need for the nurseries to adhere to the Ministry of Health's instructions regarding ventilation, sterilization and other preventive measures.
Many nurseries have begun preparing for reopening for some time, ever since the matter was first raised.
Mai al-Rifaei, an official at a Cairo nursery, earlier told Al-Masry Al-Youm: "In the event a decision is made to return to work, a plan will be implemented to protect children and workers, with the nursery operating at only 25 percent of its capacity […] And a special sterilization gate will be installed at the entry."
"A temperature detector will [also] be placed at the gate to prevent anyone from entering before taking their temperature," she said.
Children will be made to take off their shoes before entering to prevent bringing in any germs. In addition, workers will be obliged to wear face masks and shields, and to use antiseptics and disinfectants, she added.
Workers and children will be instructed to disinfect their hands every half hour, according to Rifaei.
Staff, meanwhile, will be kept at a minimum to prevent crowding. Methods of protection will be applied also in nursery school buses, she said.
Sahar Mostafa, the owner of a nursery in Cairo's Fifth Settlement, however, had another opinion on the reopening of nurseries. She said that the decision will be difficult to apply because it places a heavy responsibility on everyone, since the matter is directly related to children.
Mostafa said: "We will not return to work immediately if a reopening decision is made. Many prevention and precautionary measures will be applied and only 20 percent of the total capacity will be allowed to attend."
She emphasized that the decision is everyone's responsibility, especially parents, as they need to cooperate with the nursery in reporting any symptoms, or reporting any suspected cases in the family.
Antiseptics and sterilizers are an obvious and obligatory matter for everyone in case of return, she said.
What do mothers think about the return decision?
Immediately after the matter was raised, mothers expressed various opinions on social networking websites.
The "No to reopening nurseries" hashtag was quickly launched on social networking platforms by opponents of the decision. Parents objected, saying that children cannot properly apply methods of prevention and social distancing.
Some comments stated: "I will not send my daughter [to the nursery], I haven't given up on life yet." And, "Children have no control over themselves and they will not be able to apply social distancing rules, or any other rules."

Other comments, however, supported reopening, saying: "The reopening decision depends on people's awareness. But those who can afford to not send their children to nurseries should not send them. Those who have no alternative will be forced to send them."
"The thing is, the country is reopening and all places will be operating normally, which means that all employees will return to work […] So if mothers are obliged to go to work, nurseries need to reopen because children cannot remain at home on their own," another comment read.
In mid-March, Qabaj suspended the operation of nurseries in all governorates for two weeks, in line with the government's decision to suspend education in schools and universities. The decision was later extended.
According to Social Solidarity Ministry data, the number of licensed nurseries for the age group 0-4 in Egypt is 14,272, whereas the number of children registered in nurseries is 847,423. The number of children enrolled in kindergartens is 1.3 million.
How nurseries resumed around the world
Norway announced the reopening of its nurseries toward the end of April, part of the initial steps of a slow and gradual lifting of coronavirus restrictions.
Norwegian Minister of Education and Integration Guri Melby had earlier confirmed that "going to pre-school is safe."
The reopening of nurseries in Norway was accompanied by a set of precautionary measures. Children under three are placed in groups of three, with each group supervised by one adult. Those between three and six years of age, meanwhile, are divided into groups of six. Mixing between different groups is prevented.

But some parents expressed their fear of the move and launched a campaign on Facebook entitled "My child should not be a guinea pig for COVID-19," as well as an e-petition that collected 28,000 signatures against reopening.
Edited translation from Al-Masry Al-Youm