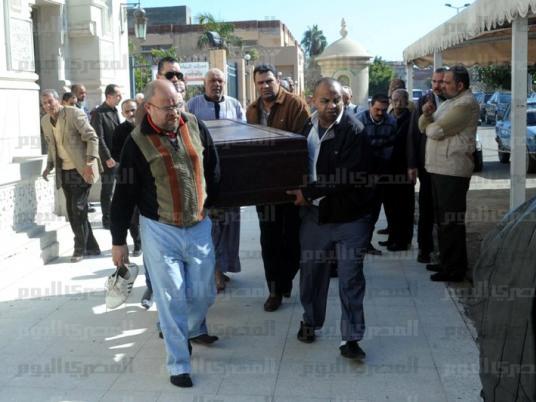 Thousands of mourners gathered in a small Egyptian town on Wednesday for the funeral of the Muslim cleric known as "the Blind Sheikh" who was convicted of conspiracy in the 1993 World Trade Center bombing in New York.
Omar Abdel-Rahman, who was also convicted of planning a broader "war of urban terrorism" in the United States, died on Saturday in a North Carolina prison aged 78.
Movements across the Islamist spectrum from the Muslim Brotherhood to al Qaeda issued statements mourning him, and several leaders from Egypt's Islamic Group, which views the sheikh as a spiritual leader and renounced violence in 1997, attended.
Carrying signs that read "we will meet in heaven" and chanting "we will defend you with blood and soul, Islam," hundreds of mourners gathered at al-Gamaliya, his hometown in Egypt's Nile Delta province of Dakahlia, to wait for Abdel-Rahman's body as it made its way back from the US via Cairo.
The Egyptian-born Abdel-Rahman, who lost his eyesight due to childhood diabetes and grew up studying a Braille version of the Koran, remained a spiritual leader for radical Muslims even after more than 20 years in prison.
As an adult he became associated with the fundamentalist Islamic Group and was imprisoned and accused of issuing a fatwa leading to the 1981 assassination of Egyptian President Anwar al-Sadat, against whom he had railed for years.
Abdel-Rahman was still an important figure in radical Islam even after years in prison. A year before his al Qaeda followers pulled off the most destructive assault on US soil, the September 11, 2001, attacks, Osama bin Laden had pledged a jihad to free Abdel-Rahman from prison.
When Mohammed Mursi, a leader of the Muslim Brotherhood, began his short-lived presidency of Egypt in 2012, he said winning the sheikh's freedom would be a priority. The jihadists who attacked an Algerian oilfield and took hostages in 2013 also demanded his release.
Yet supporters paint him as a revered scholar who faced injustice and torture at the hands of the Egyptian and US governments for sticking by his principles.
Mourners chanted "God is great" and cheered as his body, draped in a brown blanket inside a wooden coffin, was brought out to be washed at his brother's house before the burial.
"If he were a bad man, people from all over the country wouldn't have came to attend his funeral," said Mostafa al-Wakeel, a 40-year-old lawyer who traveled around 175 kilometers from Cairo.
The sheikh said he was hung upside-down from the ceiling, beaten with sticks and given electric shocks while held in Egypt but he was eventually acquitted and went into self-imposed exile in 1990. He managed to get to New York after the US embassy in Sudan granted him a tourist visa in 1990.
'PLANT FEAR IN THEIR HEARTS'
Even in exile, he remained a force in the Middle East, where followers listened to cassette tapes and radio broadcasts of his sermons decrying the Egyptian government and Israel.
"We grew up learning his books and tapes. He was among the first people who openly spoke against a tyrant," said Wakeel.
Abdel-Rahman was arrested and went on trial with several followers in 1995, accused of plotting assassinations and synchronized bombings of the UN headquarters, a major federal government facility in Manhattan and tunnels and a bridge linking New York City and New Jersey.
They were also accused of plotting to kill Egyptian President Hosni Mubarak during his US visit in 1993. He and nine followers were found guilty in October 1995 on 48 of 50 charges.
Al-Qaeda issued a statement after his death, referring to Abdel-Rahman's instructions to seek vengeance from those who killed him, referring to the US authorities whom he accused of neglect and abuse during his incarceration.
"This is the instruction of the sheikh in your hands, work hard to fulfill it and don't let the Americans enjoy safety and security. Kill them, keep a watch on them and plant the fear in their hearts. Seek vengeance for your sheikh."
(This story corrects reference to mourning in paragraph 3 to clarify that al-Qaeda figures did not attend funeral.)
(Reporting by Amina Ismail and Arwa Gaballa in al-Gamaliya; Additional reporting by Ali Abdelaty and Ahmed Tolba in Cairo; Writing by Ahmed Aboulenein; Editing by Tom Heneghan)