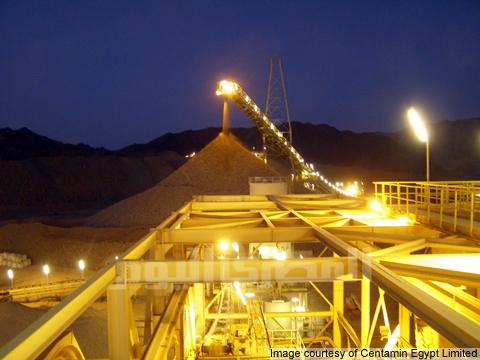 The deal made between Egypt and Centamin Egypt, an Australian mineral exploration and mining company that has been managing the mine since 2007, is extremely unfair, MP Mohamed Awad has said.
The Sukari Gold Mine — Egypt's largest and oldest mine — has seen labor unrest amid allegations of corruption, smuggling and other irregularities.
Located in the southeast of the country about 30 km from the Red Sea city of Marsa Alam, this massive gold mining project has been rocked by industrial action since the 25 January revolution. Work stoppages, hunger strikes, protests and the blocking of roads to and from the mine have been frequent.
Awad, a member of the People's Assembly Industry and Energy Committee who is heading a fact-finding commission on the mine, told state-owned Al-Ahram newspaper Saturday that in the previous two years alone, the company made a profit of 13 tons of gold.
He said that during this period, Centamin Egypt took more than the operating expenses agreed upon, estimated at US$450 million.
The Sukari mine has more than 450,000 tons in gold reserves, Awad said.
More than 150,000 workers are employed in the area, and though 70 Australian experts are available, they do not train the Egyptian labor force or provide them with necessary experience, keeping Egypt in constant need of foreign assistance, Awad said.
The MP said according to the terms of the agreement, the company has the right to equal profits for 30 years.
Awad said the Australian company threatened to resort to international arbitration when he discovered what he called unjust terms that give the foreign partner the right to 70 percent of the mine's net production, while Egypt only gets 30 percent.
Awad said former Petroleum Minister Sameh Fahmy, who is currently detained pending the gas export deal with Israel court case, must be tried on charges of selling Egypt's gold mines.
He said according to company documents the Sukari mine began operating in January 2010, even though Fahmy admitted during a television interview in August 2009 that the mine had produced between five to six tons of gold.
MP Younes Sabir, a member of the same fact-finding commission, told Al-Ahram news website that the People's Assembly Industry and Energy Committee will hold an emergency session today on the commission's findings.
A final report will be drafted for parliamentary discussion, Sabir said.
Sukari mine workers suggested that in its report to Parliament, the committee recommend that the government "Egyptianize" all mining projects in the country, especially since the Egyptian labor force includes those more qualified than any foreign, private entity.