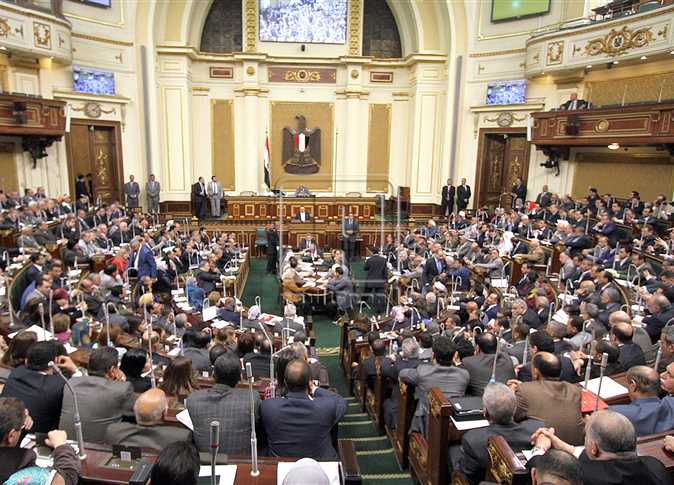 A dozen Egyptian MPs signed the "Alashan Tabneeha" (To Build It) petition that called on President Abdel Fattah al-Sisi to run for another 4-year term, in the upcoming 2018 presidential elections.
Copies of the petition spread throughout the parliament building, shortly after groups of public figures, government employees and journalists in pro-government newspapers joined the campaign.
"Sisi's achievements are a major miracle, we are calling on him to run for a new presidential term," MP Alaa Waly said.
He added that the petition he signed "Alashan Tabneeha" is a positive and good step, and that the extent of the president's successes and mega projects were enough to ask him to run for a second term.
The MP explained the extended presidency was pivotal for the president, "To complete the construction of a new Egypt and open a better future for the rising generations and youth, in addition to returning Egypt's to its place and role, which is pivotal among the countries of the world, through successful foreign policy…"
"It is great honor that you saved Egypt from the rule of religious fascism," MP Saeed Hasasin said as he signed the petition on Monday.
Hasasin urged the president to run for the upcoming presidential elections, "In order to continue the process of reform and maintain the security and stability of Egypt and defeat terrorism, all terrorists and Takfiri organizations, and to stand by the poor citizens."
MP Hala Abu al-Sa'ad said that her call for the president to run is "urgent", explaining that, "Youth won't refrain from voting again, but they will lead the line to vote in the presidential elections."
A collective of people and MPs launched the campaign "Alashan Tabneeha" (To Build It) last month to demand Sisi run in the upcoming presidential elections and to serve for a second term in office in order to "meet the challenges and build and develop Egypt," according to the campaign.