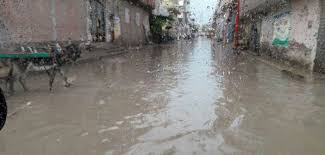 Members of Parliament launched an attack on the government in its Thursday's session for failing to combat the problems with drainage of rain water over the past two days, requesting the launch of an investigation with the responsible officials for the drainage and sewage systems.
Parliamentarian Fayka Fahim, member of the housing committee, submitted the request to Parliament, directed to the prime minister, local development minister and housing minister, accusing the government of failure to combat rainfall, in addition to the failure of the Egyptian sewage system.
Fahim issued a statement Thursday stating that the rainfall in Egypt has led to the flooding of the streets and the damage of the infrastructure of some buildings. What made matters worse, added the statement, is that the damage affected newly built cities.
Moreover, the rain has caused the blockage of a huge number of sewage networks, the statement reads.
Parlaimentarian Haitham El-Hariry echoed the sentiment. He submitted an investigation request over how the rain managed to freeze services and besiege the residents of New Cairo, as well as travelers on the highways.
He also pointed out that this is not the first time the government has failed to combat the rain. A few years ago, the same scenario took place in Alexandria and Beheira, as well as Red Sea governorates.
As for Parlaimentarian Al-Sayiid Hegazy, he requested an investigation to be carried out to reveal why different governorates were unable to handle the emergency cases that took place over the past few days.
He concluded that those responsible for sewage systems must face punishment for the deteriorating conditions the citizens suffered from across the country.
In a similar context, President Abel Fattah Al-Sisi expressed his considerable sympathy with the stress that has invaded some Egyptian lives as a consequence to the sudden rainfall during the past few days, adding that the government will be intensifying its efforts to avoid such a problem from occuring in the future.
Anonymous high-ranking sources told Al-Masry Al-Youm that a decision will be issued within the next hours concerning high-ranking officials who are accused of negligence in dealing with the aftermath of the heavy rain crisis.
This is not the first time rain has caused such havoc in Egypt. In 2017, the same problem happened though not with the same intensity. In December, Kafr Al-Dawar, Dakahleya and Alexandria, in addition to several Egyptian cities were flooded in a winter rain frenzy.