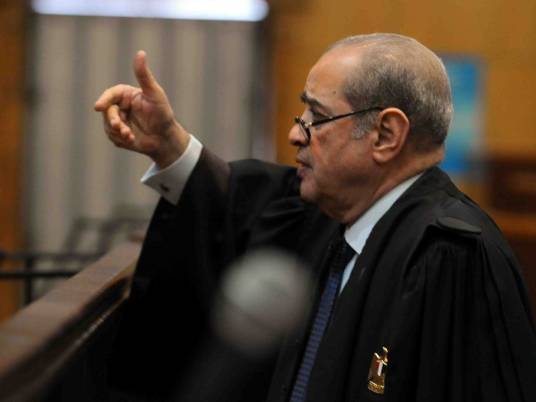 Farid al-Deeb, lawyer for former President Hosni Mubarak, on Sunday called for all cases on the killing of protesters facing the ex-leader and former Interior Minister Habib al-Adly to be combined.
Deeb also requested a testimony by former Prime Minister Atef Ebeid, linked to financial and administrative corruption cases, to be used in a trial in which Mubarak and his two sons, Alaa and Gamal, are implicated.
The Mubarak defense told Cairo Criminal Court that Ebeid's testimony should be heard, as it was in a corruption case against former Petroleum Minister Sameh Fahmy.
Deeb said that only one defendant had been convicted in cases on the killing of protesters between 28 to 31 January 2011.
The Tanta Criminal Court handed the defendant in question a suspended prison sentence of one year for exceeding the legitimate limits of self-defense.
Deeb also requested an extention of the case for six months to enable the defense to review the case dossier.
Edited translaiton from Al-Masry Al-Youm