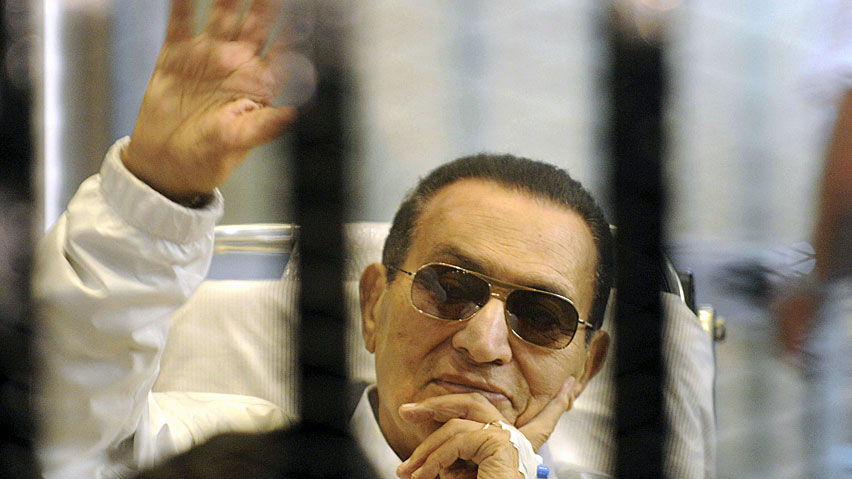 Former President Hosni Mubarak was taken ill during Saturday's trial session as he suddenly suffered high blood pressure and rapid heartbeat.
The court summoned the medical team and suspended the session for half an hour, until Mubarak's condition stabilized.
The security forces at Cairo Security Directorate tightened security measures on Saturday morning at the Police Academy in New Cairo in preparation for former President Hosni Mubarak's trial, former Interior Habib al-Adly and six of his top aides, and fugitive businessman Hussein Salem over corruption charges and the killing of protesters during the 25 January revolution.
Mubarak was transferred from Maadi Military Hospital to the Academy in an aircraft and was placed along with other defendants in the glass dock where toppled President Mohamed Morsy was placed during his trial.
Earlier on Saturday, CSF formations and special forces were deployed at the main entrances to the Academy and iron barricades were placed around.
The court was to listen in Saturday's session to the testimony of former Military Police leader Hamdy Badeen,and head of the National Security Agency Khaled Tharwat.
Colonel Ayman al-Fahim of the Republican Guard, and head of Giza Security Directorate Major General Mohamed al-Daly was to also testify in the case on 10 February.
The court listened in previous sessions to the testimonies of former Defense Minister Field Marshal Mohamed Hussein Tantawy, former Chief of Staff of the Armed Forces Sami Anan, former head of the General Intelligence Morad Mowafy, and former commander of the Central Military Region Hassan al-Rowainy.
Cairo Court of Appeal, headed by Judge Nabil Saleeb, set 19 February for the first session of the trial of Mubarak and his two sons Alaa and Gamal Mubarak over charges of seizing LE125 million of the funds allocated to presidential palaces.
Edited translation from Al-Masry Al-Youm