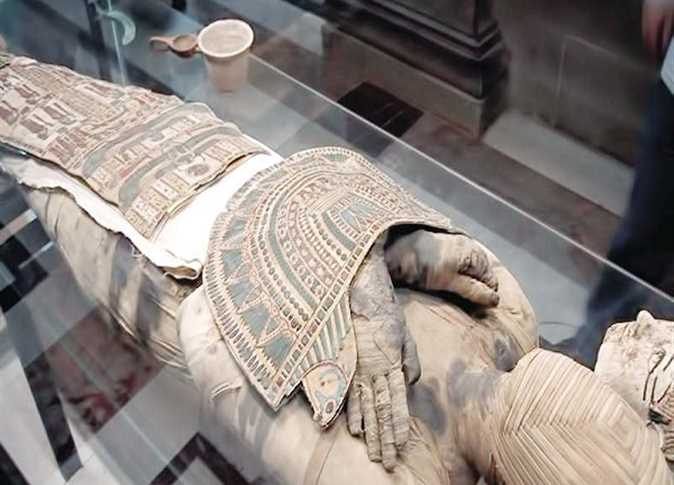 On Saturday, all eyes will turn to downtown Cairo to watch 22 mummies make their way from the Egyptian Museum in Tahrir to the National Museum of Egyptian Civilization in Fustat in what many are calling the "Pharaohs' Golden Parade".
Security sources at Cairo's Traffic Directorate disclosed the parade's route, revealing that it will begin at the Egyptian Museum and head toward Simon Bolivard Square, then to the Nile Corniche, then to the Sayeda Zaynab neighborhood, and finally to Old Cairo, where the museum is located.
The sources clarified that the duration of the procession according to the plan is about an hour, and that there will be high-level security procedures in place throughout the itinerary.
The mummies will exit from the main door of the Egyptian Museum, then they will be carried in boxes on carts designed in the Pharaonic style. Next to the carts and in front of the procession there will be individuals wearing Pharaonic costumes and people on horseback.
Before the procession moves, an artillery squad will fire 21 shots in the air, then the carts will exit one after the other from the museum gate in a circular motion heading to Tahrir Square to circle the obelisk.
After that, Tahrir Square, the obelisk, and the surrounding buildings will be lit. The procession will then proceed along the Nile River.
Once they make it to the museum, the mummies will be displayed inside a designated hall called "Mummies Hall."
To preserve the mummies, the Ministry of Tourism and Antiquities restored weak spots in each mummy, placed them inside a nitrogen capsule and padded the area around them.
At the present time, the final touches are being made in preparation for the journey.
Edited translation from Al-Masry Al-Youm