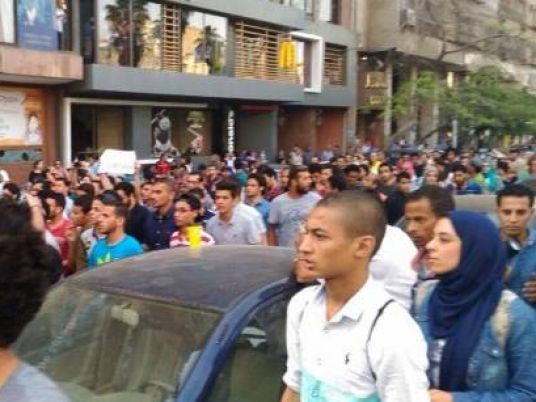 Prosecutors have ordered the detention of seven suspects pending investigation on charges of inciting protests on November 11.
The order was issued by East Cairo prosecution on Sunday afternoon.
According investigators, the suspects belong to Muslim Brotherhood and held several meetings in Nasr City and the Fifth Settlement with a view to organizing mass protests next month.
The suspects are accused of printing leaflets that incited protests over sharp increases in the cost of living and general economic mismanagement on the part of the government.
The suspects are alleged to have planned acts of violence during the protests.
The government is under intense pressure to correct various problems with the economy, including steep rises in the cost of consumer goods, which is particularly impacting on the nation's poor.
The IMF is due to deliver the first tranche of a US$12 billion loan to Egypt, to be split up over a period of several years.
While the loan will provide a much-needed injection of dollars to the economy, the IMF has made it conditional on various economic reforms, including the removal of subsidies for various key commodities, including fuel, energy and food.
In addition, the IMF has called for the Egyptian currency to be floated, a move that is expected to result in further devaluation, further compounding the woes of the Egyptian business community.
On Sunday, the government statistics agency released figures showing that 27.8 percent of the population now lives below the poverty line.
Ever mindful of the political and security threat posed by increased poverty, the government has been making strenuous efforts to control inflation in key consumer goods, such as food, distributing goods at reduced prices and cracking down on hoarding and black-market sales. However, with poverty apparently on the rise, many are expecting further attempts at mass protests based around economic concerns in the future.
Egyptian MP Mohamed al-Sadat has warned of the danger of mass protests on November 11, a day identified by opposition activists as suitable for street demonstrations that could draw large crowds, particularly after Friday prayers. Sadat called on parliament Speaker Ali Abdelaal to respond to the concerns of citizens by inviting representatives into parliament for discussions.
On Saturday, a man in Alexandria set himself on fire, suffering burns over 50 percent of his body, in an apparent protest at the rising cost of living. The incident is reminiscent of the fatal self-immolation of a street vendor in Tunisia named Mohamed Bouazizi who set himself on fire in December 2010, an act that helped spark the Arab Spring protests in that country.