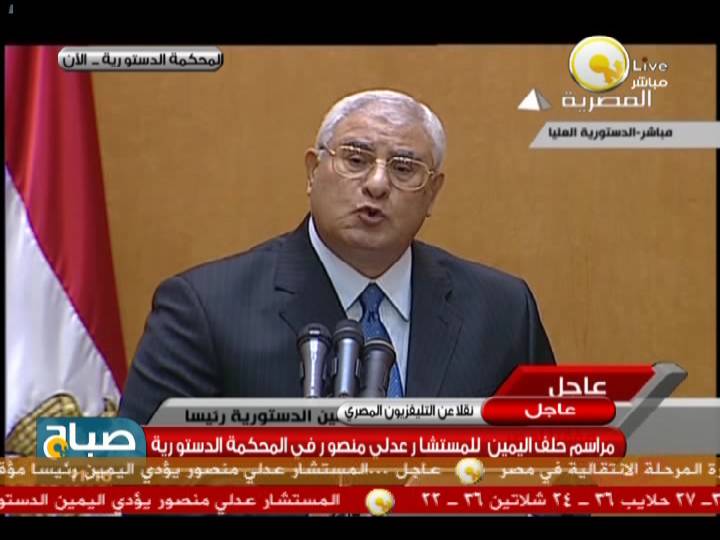 Interim President Adly Mansour has claimed the Muslim Brotherhood is no longer capable of rallying large protests on the streets, ahead of planned marches marking the day of Mohamed Morsy's trial which many expect could see unrest return to Cairo.
Mansour, who is currently visiting Kuwait, told Kuwaiti state media that lingering protests are limited and being driven by minority groups that do not exceed the hundreds.
In an interview with Kuwaiti News Agency (KUNA), Mansour claimed pro-Morsy protesters aim to "shake" the country, but that ongoing demonstrations are "not popular."
"[They] want to give the impression that the government is unable to run the country, Mansour argued, adding that it has become clear to everyone that the Muslim Brotherhood is incapable of rallying effectively anymore.
The interim president also called for unifying Arab efforts to confront challenges of security, terrorism and extremism across the region. Egypt supports Gulf security because it is part of Egypt's national security priorities, he said, echoing similar statements made by Foreign Minister Nabil Fahmy last week.
"Egypt has started restoring its entrepreneurial role both on the regional and international levels," Mansour said. "Its role is imposed by historical facts and Arab fundamentals. It will be completely restored once the roadmap is fulfilled."
Regarding his visit to Kuwait, Mansour said he had wanted to extend his thanks for the Gulf state's support after the 30 June revolution, during meetings with Kuwaiti Emir Sheikh Sabah al-Ahmad al-Sabah.
Kuwait would also be a foreign policy priority for Egypt in the future, he added.
"There is a feeling of optimism over Gulf-Egyptian relations in general and Egyptian-Kuwaiti relations in specific," he said. "Improving these relations will be positively reflected in investments. We are looking forward to providing suitable atmosphere to increasing the investment amid promising investment opportunities in all domains like industry, agriculture, tourism, real estate and the services sector."
Regarding U.S.-Egyptian relations after 30 June, Mansour stressed his country wants to maintain relations as much as the U.S. does. "The ruling principles of our relations after the 30 June revolution include the independence of Egypt's national choices, raising the national interest above any other consideration."
"Egypt welcomes normal relations with all countries including Iran," Mansour said, acknowledging the Islamic republic's importance in terms of Gulf security. "Foreign Minister Nabil Famhy's announcement on holding a Gulf dialogue means that Egypt is ready to create a suitable atmosphere for this dialogue."
Edited translation from MENA