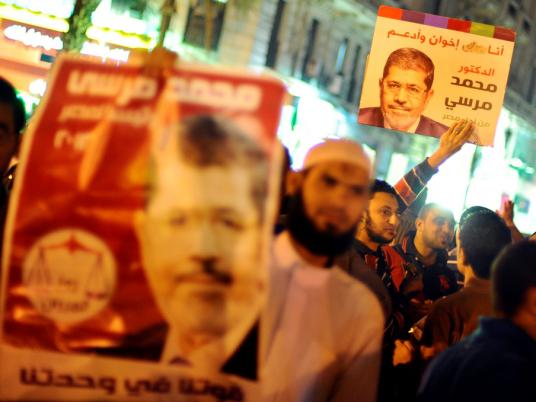 The Muslim Brotherhood has nominated one of its senior leaders for the influential position of grand mufti, the nation's top cleric, defying critics who accuse the Islamist group of seeking to dominate all institutions.
Islamic scholars chaired by the head of the ancient seat of learning, Al-Azhar, are due to pick a new mufti Monday from a shortlist of three candidates and send their choice to President Mohamed Morsy to approve.
The mufti is empowered to issue opinions, or fatwas, on any matter, influencing legislation on social and cultural issues, public behavior and court rulings.
The selection falls on the second anniversary of the resignation of veteran President Hosni Mubarak, ousted by a pro-democracy uprising. Several organizations have called anti-Morsy protests on the same day.
The leading candidate is Abdel Rahman al-Barr, 50, a member of the Brotherhood's decision-making Supreme Guidance Council who was jailed under Mubarak and helped draft a new constitution adopted in December that expanded Islamic oversight.
His appointment would tighten the conservative Brotherhood's grip on power, replacing liberal-minded preacher Ali Gomaa, 61, who had publicly condemned radical fatwas, including some issued by Brotherhood supporters.
The mufti serves until he reaches retirement age at 60. Gomaa was granted a one-year extension by the military council that ruled Egypt until Morsy was elected last year.
"Barr is the most likely choice as it reflects the change the scholars' panel has undergone since Mursi came to power as about 70 percent of its members are either Brotherhood or [hardline] Salafis," political scientist Mostafa al-Sayed said.
"However, such a selection will fuel more public anger and show the Brotherhood lacks the vision to see the impact of such a decision on the stability of the country," he told Reuters. "It also shows more growing influence of Islamists in Egypt."
In an interview with Reuters last June, Barr said Muslims should be barred from both buying and selling alcohol, but that Muslim women should not be compelled by law to wear headscarves.
Asked to confirm that he had been nominated, Barr told Reuters: "I neither sought nor asked for this job and I only knew about it from the newspapers."
However, he added that he would set out his religious views in a one-hour interview with state TV Monday.
A top official in the mufti's office, Dar al-Ifta, said Barr was the most likely pick and the Brotherhood had been grooming him since last year.