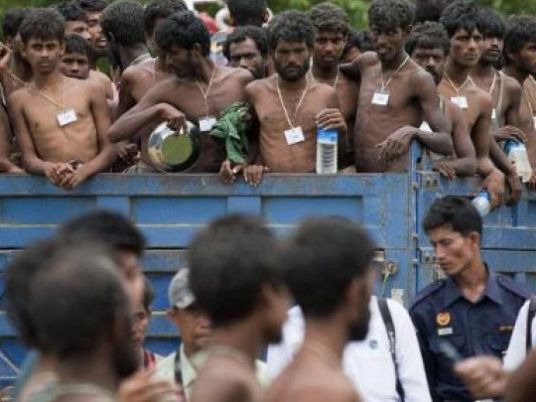 Myanmar police have arrested more than 90 people for human trafficking offences this year, media reported Monday, but no cases have been uncovered in Rakhine state where persecuted Rohingya have fled in droves.
Police gave a breakdown of their anti-trafficking activities with 56 cases recorded between January and May, the Global New Light of Myanmar reported, citing police captain Min Naing.
The report added that police had made 93 arrests over the last five months.
"Most Myanmar victims were sold into forced marriages in China and forced labor in Thailand," the report said.
The majority of cases were uncovered in eastern Shan state — which borders Thailand, Laos and China — followed by Mandalay and Yangon, the country's two largest cities.
But the report added: "There have been no reports of human trafficking cases in… Rakhine state this year."
Rights groups and observers say Rakhine is a major human trafficking hub.
The impoverished western state is a tinderbox of tension between its Buddhist majority and a heavily persecuted Rohingya Muslim minority, many of whom live in displacement camps after deadly unrest erupted there in 2012.
Myanmar refuses to recognize the majority of its 1.3 million Rohingya as citizens and places a raft of restrictions on them, such as family size, movements and access to jobs.
In recent years tens of thousands of Rohingya have left, fleeing on often deadly voyages across the Bay of Bengal at the hands of ruthless people-smuggling and trafficking networks.
The exodus was largely ignored until a crackdown on the people-smuggling trade in Thailand last month caused chaos as gangmasters abandoned their human cargoes on land and sea.
Some 4,500 Rohingya and Bangladeshi economic migrants have since washed ashore in the region while the UN estimates around 2,000 others are still trapped at sea.
Myanmar has come under increasing pressure from the international community to halt the ongoing persecution of its Rohingya population.
But the authorities have stuck to their line that Rohingya are not fleeing persecution.
After years of turning a blind eye to the departures, Myanmar's navy in the last fortnight discovered two boats with more than 900 migrants who were brought to Rakhine.
Myanmar insists most of them are from Bangladesh and has vowed to send them back across the border.
Some 150 of the 900 migrants are expected to be sent back to Bangladesh later today after authorities on both sides of the border agreed on their origins.
But the others currently languish in limbo in a series of fetid scrubland border camps as authorities wrangle over which country they belong to.
Neither nation has shown a willingness to accept them and rights groups are concerned some could be pushed to the wrong side of the border.