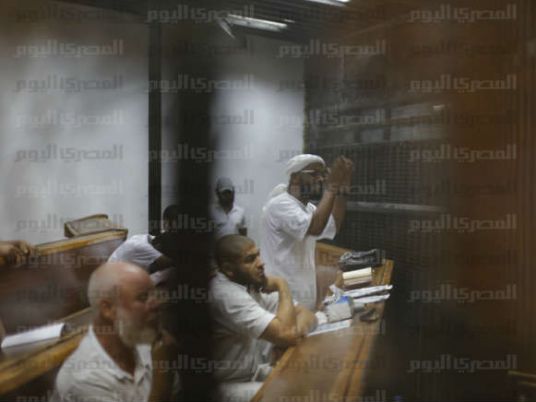 The Supreme State Security Emergency Court postponed the trial of the case known as the Nasr City cell to 12 July.
The lawyer of the second defendant said the trial is unconstitutional because it should not be held at the Police Academy and because placing 26 defendants in a glass cage is a flagrant violation of the Constitution, contending that they are being tried in military barracks and not an ordinary court.
He said Israeli defendants in other cases are guaranteed fair trials and their lawyers are not forbidden to meet with them, nor are they placed in glass cages.
Defendant Islam Tarek said the guards made him take off all his clothes and handcuffed him to frisk him before entering the cage. "I insisted on entering naked but they refused," he said, to which the judge promised to look into the matter.
The rest of the defendants kept shouting from inside the dock while the judge asked them to calm down.
Lawyer of defendant Mohamed Gamal asked to drop all charges against his client, saying his arrest warrant was only valid until 23 November whereas he was arrested on 27 November.
The case includes 18 detained defendants and eight fugitives, all charged with illegally forming a group with extremist ideas that consider state institutions and public authorities infidels that should be fought with arms. They are also charged with possessing unlicensed firearms and ammunition, attacking the personal freedom of citizens and harming national unity and social peace.
They were simultaneously arrested in several places while preparing for terrorist operations during Eid al-Adha of last year. One such place was in Nasr City where group member Karim Badawy was killed in an exchange of fire that ignited the explosives that were hidden there.
Edited translation from Al-Masry Al-Youm