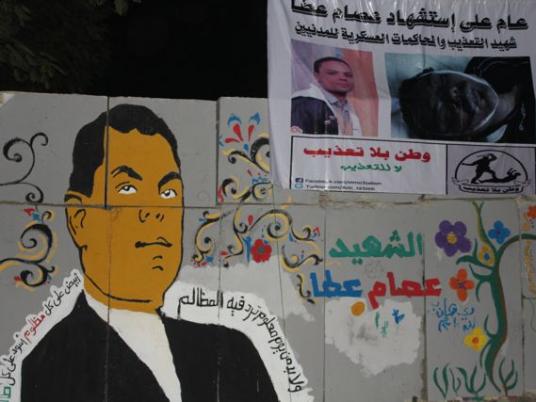 A crowd of over 1,000 people attended an event near the Interior Ministry on Saturday night to commemorate the anniversary of the death of Essam Atta — known as "the Martyr of Egypt's Military Trials" — and to launch a street campaign dubbed "A Nation Without Torture."
A stage was erected by a concrete barrier blocking Mansour Street, which leads to the Interior Ministry in downtown Cairo. From this stage, speeches were delivered by victims of army and police torture, documentaries were screened, and artists performed songs in commemoration of Egypt's victims of torture and military trials.
Estimates suggest that well over 12,000 civilians have been subjected to military trials since the outbreak of the 25 January revolution, around 7,000 of whom were indicted. Reports published by local human rights groups reveal that hundreds of other civilians have been tortured, beaten, abused, raped and even killed by the police and armed forces. These violations are still being reported.
Hend Badawi, a victim of army torture, is now an organizer of "A Nation Without Torture." According to the young activist, this street campaign will be conducted in residential quarters across Cairo and other cities, and will involve screenings of documentaries about torture and military trials.
Badawi reminded the audience of the campaign's hotline: 011-2762-4711. For further outreach, "A Nation Without Torture" has established a Facebook account and a Twitter account where cases of torture may be reported and documented.
Badawi added that this campaign would also involve rallies and marches against security forces' abuses so as to pressure authorities "to hold torturers accountable for their crimes, and to put them on trial." Furthermore, these protest actions aim at pressuring statesmen "to enforce anti-torture legislation, which exists only on paper," said Badawi. The activist expressed her ambitious aspiration to have civil society organizations overseeing prisons and inmates' conditions nationwide.
The brutal death of Essam Atta was the focal point of this event. 24-year-old Atta stood trial on 25 February 2011 on charges of brawling and the illegal occupation of an apartment. After being sentenced by a military tribunal to two years imprisonment, Atta was reportedly tortured to death while in detention at Tora Prison on 27 October 2011.
One day prior to his death, Atta is said to have contacted his family to inform them that he was being tortured by a prison police officer named Nour Abdel Hameed. Atta reportedly told his family that he was suffering from internal bleeding caused by torture. Atta's family, friends, lawyers and supporters have provided evidence that he was tortured to death by this officer, who injected a pressurized water hose into the prisoner's anus. Photos and films taken in a morgue show the deceased Atta with blood oozing from his mouth and nose.
However, prison authorities claim that Atta had overdosed and died from ingesting a large quantity of Tramadol pills (prescription synthetic opiate medication) which he had attempted to smuggle into the prison.
Atta's family and friends claim that these charges are baseless, and similar to the trumped-up accusations leveled against Khaled Saeed, an Alexandrian blogger whom police beat to death in June 2010. Officials from the Mubarak regime had argued that Saeed had died by suffocating on a large bag of marijuana which he was attempting to swallow and conceal from the police.
Atta's supporters indicate that he was tortured for smuggling in a SIM card, not drugs.
Atta's mother, Inaam Youssef, briefly addressed the audience from the stage on Mansour Street on Saturday night.
"Just as I have suffered from the death of my son, I hope his mother suffers over her son," she said, referring to her son's killer. Youssef wept as she called on President Mohamed Morsy "to intercede and seek justice for him [Atta] and for all of the other martyrs."
Human rights activist and co-founder of the No to Military Trials Campaign Mona Seif told Egypt Independent that "nothing has been done to bring Nour Abdel Hameed to justice. Nothing has even been done to hold him accountable for the crimes he perpetrated against prisoners."
Seif pointed out that another Tora detainee, "an inmate named Amr Rashad, had also filed a complaint against Abdel Hameed accusing the officer of ordering his rape."
Seif expressed skepticism regarding the new regime's willingness to release or retry around 2,000 civilians still in prison after being sentenced by military courts. Seif does not expect that Morsy's general amnesty for revolution-related offenses will have any effect on civilians indicted by military courts.
"Morsy's amnesty still has not yet been implemented," said Seif, adding "We're expecting that only a trivial number of people will be released from prisons for their actions in supporting the revolution." Seif explained that civilians tried before military courts are, more often than not, wrongly accused of thuggery, as opposed to revolution-related offenses.
"The authorities claim that there are 1,101 civilians currently in prison" who were sentenced by military courts, Seif said, "yet the actual number of these prisoners could be closer to 2,000. Among these prisoners are a number of minors between the ages of 15 and 17, who have been issued sentences ranging from 10 to 12 years imprisonment." Many of the prisoners are still being subjected to torture, abuse, and mistreatment in detention, said Seif.
Atta's brother, Mohamed, addressed the audience on Mansour Street reiterating that "Essam had nothing to do with drugs or thuggery. These are all fabricated allegations."
"Shame on all security forces that torture and abuse the Egyptian people. If we stand together, we will be able to bring Essam's killers to justice," he added.
Another torture victim, Ahmad Taha, shouted, "The death of Essam Atta proves that the dogs of the Interior Ministry are still in control, and have continued to oppress the populace since the [25 January] revolution."
"The police are the same," Taha said. "These dogs will remain dogs. However, we will no longer remain quiet regarding torture. We will no longer allow torture to take place in this country."
A 53-page report issued by Al-Nadeem Center for Rehabilitation of Victims of Violence was distributed at Saturday's event. The report details 88 cases of torture, 34 extra-judicial killings, and seven rapes perpetrated by security forces during President Morsy's first 100 days in office.
Al-Nadeem Center is one of the groups endorsing "A Nation Without Torture." Other groups include the No to Military Trials Campaign, the Mosireen Cultural Cooperative, the Hakmouhom (Put Them On Trial) Campaign, and the Free Egyptian Movement.