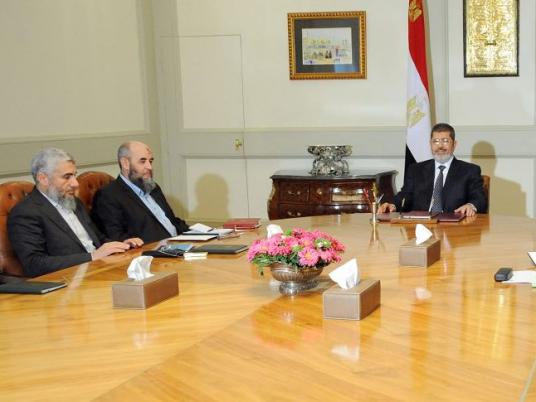 Next week's national dialogue between President Mohamed Morsy's administration and opposition political forces is not likely to succeed, predicted former Jama'a al-Islamiya leader Nageh Ibrahim.
"Each party wants to impose its conditions before engaging in dialogue, and the administration can no longer guarantee the success of the dialogue. There are alternative institutions that enjoy neutrality, like Al-Azhar," he said on Friday.
"Al-Azhar had an active role in uniting the dispersed opposition during the transition period," Ibrahim pointed out.
Ibrahim told the Kuwaiti newspaper Al-Gareeda that he hoped the Armed Forces would remain out of the national dialogue.
"I prefer that the Armed Forces keep away from the political game, so as not to be involved in taking one side against the other, and to be dedicated to their fundamental role — defending national security," he said.
"I predicted this violent situation," Ibrahim continued, "as the situation in general was not reassuring after the Arab Spring revolutions, especially with the spread of the phenomenon of political violence and weapons, as well as the emergence of groups that adopt violence like the Black Bloc, in addition to the culture of non-acceptance of [differences].The Arab Spring countries have become flaccid and weak, and cannot apply the law."
When asked about the possibility of armed clashes between secular and Islamist forces, Ibrahim responded, "This is possible, and there are harbingers of that, though I do not wish this to occur. The continuation of violence and carrying weapons in the street will not end except by the division of Egypt. Weapons are widespread now, with the appearance of groups from both sides that explicitly adopt violence," he said.
"The situation is worsening and raises concern, since each political movement is looking out for its own objectives, not greater national interests, including the ruling party and its supporters, as well as secular forces."
Ibrahim added that both parties do not trust each other, contributing to the crisis.
"The Muslim Brotherhood and its political arm the Freedom and Justice Party have to realize that Egypt is bigger than them, and too big to have one faction responsible for it," he said.
Ibrahim commented on the fatwa (religious decree) which urged the assassination of National Salvation Front members, calling it "an odd fatwa that has nothing to do with Islam, and issued during a critical time. The Islamic movement should renounce [the fatwa] so that it couldn't be used against them later, and the administration also has to renounce such opinions, so as not to appear to give them a legitimate cover through their silence."
Edited translation from Al-Masry Al-Youm