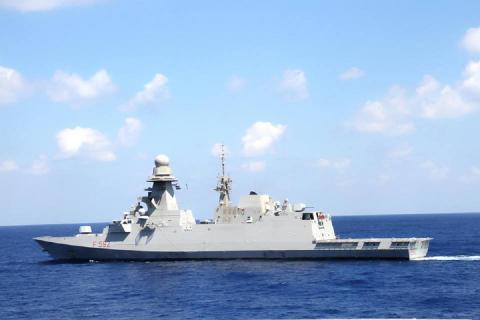 The Egyptian navy has carried out joint exercises with the Italian, Greek and South Korean navies in the Red Sea and the Mediterranean, military spokesperson Tamer Refaei announced through Facebook on Monday.
He commented that the exercises were "within the framework of the General Command of the Armed Forces's plan to enhance prospects for military cooperation with brotherly and friendly countries."
The training with Italian and Greek naval units, in the Mediterranean Sea, reportedly aimed to teach how to protect marine units while crossing dangerous areas, and how to exchange the takeoff and landing of HAL jet fighters on naval unit roofs.
On the sidelines of the exercises, the Italian fleet commander met with Egyptian naval forces Lieutenant General Ahmed Khaled. He also visited a number of marine units that recently joined the Egyptian Navy.
Meanwhile, Greek maritime students visited the Naval Academy in Alexandria and met with local navy units.
Meanwhile in the Red Sea, Egyptian and South Korean naval units carried out training on threats to maritime security and the inspection of suspected ships.