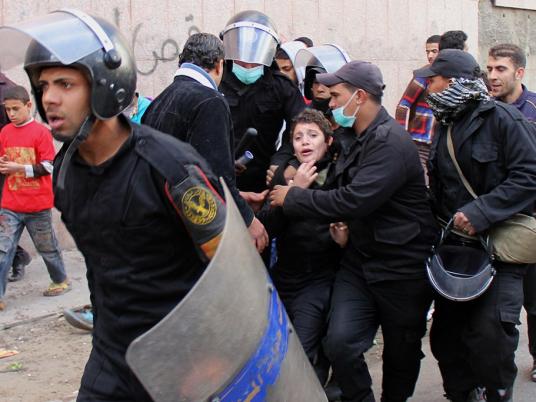 The National Council for Human Rights reported Wednesday that 56 people had died and more than 2,000 more had been injured in violent protests across the country following the second anniversary of the uprising.
During a press conference in the capital, Abdel Moneim Abdel Maqsoud, head of the council's complaints committee, said 361 policemen were injured, while three more died in the clashes. Some 450 civilians were also arrested during the unrest, with only 70 released pending investigations.
According to the NCHR, protesters had also attacked 48 buildings in 11 governorates. The group recorded another 10 incidents where clashes or protesters blocked roads and 13 other incidents involving attacks on private buildings
The NCHR compiled its report with the help of 30 researchers and lawyers who condcted fact finding missions in Cairo, Alexandria, Beheira, Ismailia, Port Said, Sharqiya, and Suez.
Maqsoud said the report is set to be submitted to the President's Office, Cabinet members, the Justice Ministry, the Shura Council and the Interior Ministry.
Khaled Maarouf, a researcher, said team members are working in tense times due to the violent crackdowns on protesters.
He added that citizens no longer fear security forces and that demonstrations differed from one governorate to another — sometimes starting and ending peacefully and at other times disintegrating into clashes.
One trend their visits revealed showed residents in certain governorates regularly carried makeshift weapons and that this is now a widespread phenomenon, especially among criminals.
The fact finders also found that children under the age of 14 were often put on the front lines of protests to prevent security force brutality.
Several minors under the age of 14 were subsequently arrested, including one that had been treated for cancer.