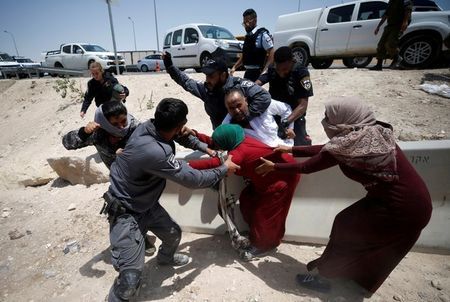 JERUSALEM (Reuters) – Israeli Prime Minister Benjamin Netanyahu said on Sunday his decision to delay the demolition of a Bedouin village in the West Bank was a brief reprieve while efforts are under way to reach a relocation deal for its residents.
Israel's decision to raze the village of Khan al-Ahmar in Israeli-occupied territory has drawn international concern, including from the United Nations and the European Union. The International Criminal Court prosecutor has said the eviction and demolition of Khan al-Ahmar could constitute a war crime.
But an official in Netanyahu's office, who spoke on condition of anonymity, said on Saturday the eviction had been postponed and an alternative relocation plan was being considered, in coordination with the Palestinian Authority.
In remarks to reporters on Sunday, Netanyahu said the eviction would eventually go ahead.
"I have no intention of postponing this indefinitely, despite reports to the contrary, but for a short time," he said.
"The amount of time we allocate for evacuating it under an agreement will be set by the security cabinet. I will convene it today. We will set (the timetable). It will be short and I believe it will be done with consent."
Originally residents were to be relocated to an area about 12 km (seven miles) away next to a landfill in the Israel-occupied territory. The authorities were expected to send in bulldozers in at any time after an Oct. 1 deadline for the villagers to demolish their own homes expired.
Israel, which has long sought to clear the Arab nomads from tracts of land between the Jewish settlements of Maale Adumim and Kfar Adumim, said Khan al-Ahmar was built without the required permits.
Palestinians, who lost an Israeli Supreme Court appeal against the evacuation, say such documents are impossible to obtain.
The Palestinians say razing the village's tents and tin shacks is part of an Israeli plan to create an arc of Jewish settlements that could effectively cut off East Jerusalem from the West Bank, areas occupied by Israel since a 1967 war.
Most countries consider settlements built by Israel on land it captured in 1967 as illegal and say they reduce and fragment the territory Palestinians seek for a viable state. Israel disputes this.
The United Nations, the EU and rights groups have urged Israel not to raze the village, citing the impact on its community and prospects for peace.