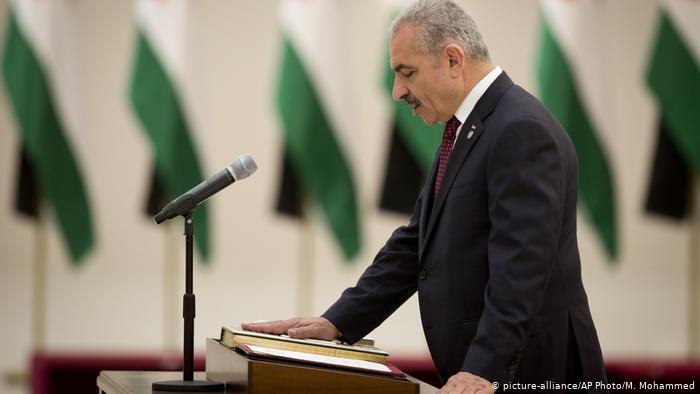 Ministers of the new Palestinian government on Sunday were sworn in a second time after dropping a phrase from their oath to serve, which was first taken a day before.
A Palestinian lawyer had watched the swearing-in ceremony and noticed that the clause "[to be loyal] to the people and its national heritage" was not included. Lawyer Nael al-Hawah said it could jeopardize the government's workings.
According to the official Palestinian news agency, the full oath reads: "I swear by Almighty God to be loyal to the homeland and its sanctities, to the people and its national heritage, to respect the constitutional order and the law, and to take full care of the interests of the Palestinian people."
The new government is led by Prime Minister Mohammed Ishtayeh, a veteran peace negotiator and critic of the Islamist movement Hamas, which governs in the Gaza Strip. Palestinian President Mahmoud Abbas urged the new government "to fight the [Israeli] occupation with all legal means."
Read more: Israel faces old reality of Benjamin Netanyahu victory anew
'Palestinian division'
But Hamas criticized the new government, saying the appointment of critics will "widen the Palestinian division at the expense of the Palestinian people's interests." It added that the new government represents "a practical step to implement the 'deal of the century,'" referring to US President Donald Trump's plans to end the Israeli-Palestinian conflict.
Since 2006, Hamas has been odds with Abbas' Fatah party, which runs the Palestinian Authority, the body charged with governing the Palestinian Territories.
That year, Hamas won nearly 45 percent of the vote during parliamentary elections, placing it in a position to lead. However, fighting between Hamas and Fatah, alongside Israeli action against the Palestinian government, led to open conflict, allowing the former to take control of the Gaza Strip.
Read more: Gaza's youth stare into the abyss
ls/jlw (AP, AFP)