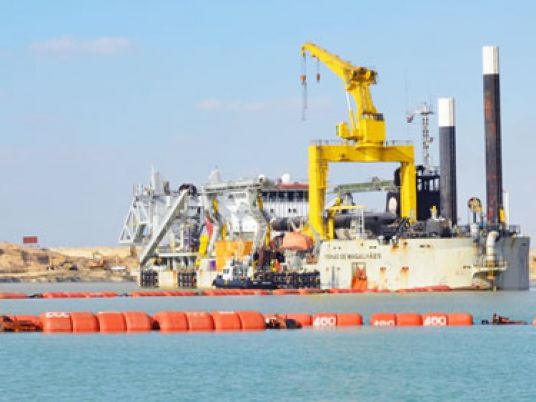 Sources of new management of the Suez Canal project said the armed forces have erected a new Statue of Liberty, which is the symbol for the new Suez Canal.
The statue is represented by Egyptian female peasant with pharaonic features, and a pharaonic head cover, with two sphinx statues placed by each side of her.
The statue, which was placed on a base of about 20 meters, overlooks directly the inauguration platform of the project, which will be officially inaugurated on August 6 next in a global celebration.
President Abdel Fattah Sisi asked the supervisors of the project, including Mohab Mamish, head of the Suez Canal Authority, and Major General Kamed al-Wazir, Chief of Staff of Engineering Authority of the Armed Forces, to make the celebration tradionally Egyptian, according to the sources.
Those directives were behind the choice of the main statue and logo of the project pharaonic and other paintings and sculptures in other areas and entrances to the new water channel.
A dredging official at the Suez Canal Authority said that the dredging rate reached about 232.5 million cubic meters of sand saturated with water, out of a total target of 258 million cubic meters. He pointed out that 38 dredgers, five out of which belong to the Suez Canal Authority, work on the project.
Edited translation from Al-Masry Al-Youm