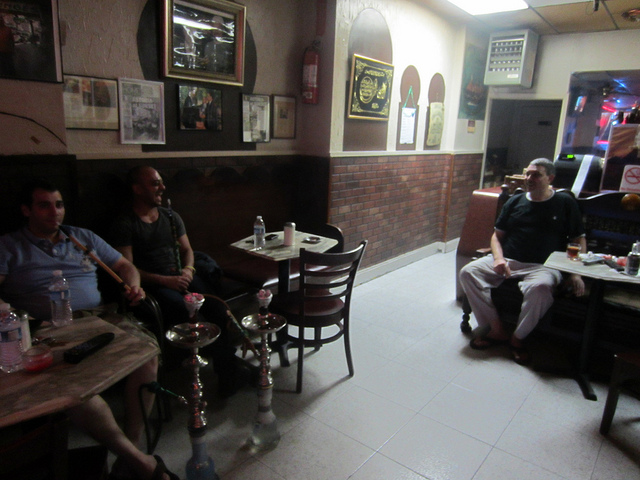 NEW YORK, NY — Gamal Dewidar is busy working through the fully shelled prawns in front of him, but he breaks long enough to point out the picture on the wall of him shaking hands with Hosni Mubarak.
"Mubarak is my friend and I put up his picture, and won't put it down," he says defiantly, as the other patrons of his New York City hookah cafe laugh — they've heard this before. "Why you have to make a revolution? Sadat was good. Mubarak was good."
Dewidar asks a waiter to bring him a second massive plate of penne pasta to accompany the prawns. The still-unknown results of Egypt's first post-Mubarak presidential election loom above the cafe's patrons on a wall-mounted TV screen. The Muslim Brotherhood's Mohamed Morsy will be announced as the victor a few days later, but for now Dewidar is certain that Ahmed Shafiq, Mubarak's last prime minister, will win.
"If Shafiq wins, I have a cow, I'm gonna have him come from Pennsylvania, I'm gonna kill him," he makes a slicing motion across his throat, smiling, "and give everyone one pound of meat."
Roughly two blocks on Steinway Street in Astoria, a neighborhood in the borough of Queens, are known to locals as Little Egypt. Here Dewidar runs El Khayam Hookah Center, one cafe among many that line both sides of the street — one stretch features five in a row — announcing themselves with signs in Arabic and English. The cafes here don't spill out onto the sides of the roads the way they do in Cairo, and the smell of men puffing shisha isn't nearly as strong. But with Egypt's post-Mubarak transition lingering, their discussions bring the same passion of revolutionary Egypt to the streets of New York City.
Here, and in the rest of the US, Shafiq proved more popular. In the presidential election's first round in the New York area, Shafiq took 1,201 votes to only 362 for Morsy. In the runoff vote, Egypt's Foreign Ministry reported that Shafiq again beat Morsy in the US. But speaking to the residents of Little Egypt, a more muddled political picture emerges, its residents airing political disagreements but sharing a common concern for their homeland.
At the Eastern Nights hookah lounge, whose walls are decorated with images of pyramids and the Sphinx, Saeed Hassanin says while he supported the 25 January revolution, this presidential election is no time for experimentation.
"We wish we had somebody better educated, who knows what's going on," he says, explaining why he voted for Amr Moussa, former secretary general of the Arab League, in the first round and Shafiq in the second. His support for both is lukewarm.
He leans in, the red glow of the cafe's inside lights on his face. "I don't understand, we are 90 million people. We don't have one person who can run this country good?"
In 1995, Hassanin moved from the coastal city of Alexandria to the United States, where he runs a wholesale factory. He still maintains ties to Egypt, visiting his family there at least twice a year.
He fears the Muslim Brotherhood has begun an inexorable project of turning Egypt into an Islamic state, which he says justifies the Supreme Council of the Armed Forces' latest move to remove powers from the presidency and assume legislative powers through a supplement to the Constitutional Declaration.
"They [the SCAF] see the picture; nobody else is qualified to run the country," he says. "They have no right to do that, but with Mohamed Morsy, you have the right to do that, you have to have a balance."
Amr Khalifa, a journalist, is similarly distrustful of the Brotherhood, but more concerned with the potential fallout from the combination of a Morsy victory and a Supreme Constitutional Court ruling last month that dissolved Parliament.
"Tomorrow it begins," he says, smoking a shisha pipe outside the Egyptian Coffee Shop. "If the Brotherhood is as smart as they think they are, they will escalate tomorrow."
According to the 2010 American Community Survey (ACS), 137,799 people of Egyptian ancestry live in the United States. The 2008–2010 ACS three-year estimate identified almost 34,000 Egyptians living in the New York, Northern New Jersey and Long Island metro area. Though a sizable expatriate population compared to the rest of the world, the community here is dwarfed by hundreds of thousands of Egyptians living in Gulf countries, the vast majority of whom voted for Morsy.
The banter outside the Egyptian Coffee Shop is unmistakably Egyptian — loud, quick colloquial Arabic accentuated by exaggerated swipes of the hand. Khalifa says the shop, which opened in 1997, is a "classic" place that "doesn't cater to the younger crowd."
Khalifa was not in Egypt during the 25 January uprising. He demonstrated in midtown Manhattan during the 18 days and fondly remembers bringing his children to Steinway Street on 11 February, the day Mubarak stepped down. He says the hardest thing for him to do as a father was try to explain to his daughter, who is 10 years old, why the violence in Egypt hadn't stopped.
"I remember my daughter saying, 'Baba, baba, I thought the revolution was over,'" he recalls.
One young man of Egyptian descent who has never been to Egypt says he does not have a "flying" interest in what is happening there. Sitting outside a produce market, he does not want to talk about the situation and refuses to give his name for this article.
While the immigrant residents of Little Egypt seem more concerned, their reactions to the situation back home are still tinted by their experience of living in the United States.
Dewidar, who calls himself the father of the local Egyptian community, came here alone in 1979, after Egypt and Israel signed a peace treaty mediated by the US.
"I'm an American, man," he says proudly and repeatedly.
Dewidar explains that he loves former President Anwar Sadat and Mubarak because they maintained peace with Israel and as a result, strong relations with the US. He calls Shafiq, who he supported in the election, "the man of Israel."
Khalifa, having lived here for 35 years, speaks English with a perfect American accent. He has not been to Egypt since late 2010, when he brought his family there for a visit. He says that while his children enjoyed visiting tourist sites and relaxing, they didn't have time to appreciate the deeper issues affecting the country, issues that boiled over in the streets just months later.
Watching Egypt's turmoil on television, Hassanin says, often leaves him with an exaggerated impression of the security vacuum in the country. "When I sit here and watch on TV, I feel like I should carry a gun with me," he says. "When I go to Egypt, I feel fine."
Dewidar has lived in the US almost as long as Khalifa — 32 years — but his Egyptian accent is stronger. He visits home frequently and says he will continue to do so even if a civil war breaks out, which he thinks is possible. "I'd go any time, I don't care. I'm from Shubra," he says.
Despite spending so much time out of Egypt, Dewidar says he knows the solution to the civil unrest back home.
"The key to Egyptians," he says, "is give them respect."