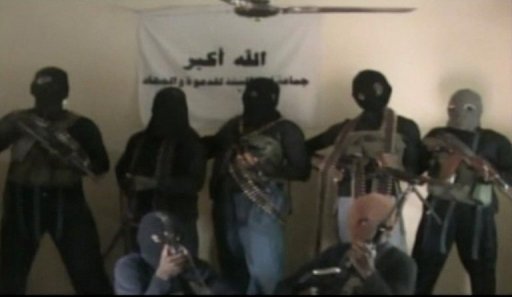 DAMATURU, Nigeria — Residents of a northeastern Nigerian city were marking the Muslim feast of Eid al-Adha amid fears and tears after deadly attacks claimed by Islamists claimed at least 150 lives.
The attacks on Friday were about the deadliest ever carried out by Boko Haram, an Islamist sect based in the north of Africa's most populous country.
At least 150 people died in what Nigeria's leader Goodluck Jonathan described as a "heinous" wave of gun and bomb attacks in Damaturu, capital of Yobe state.
Around 100 other people were injured in the attacks.
"It's a season of mourning and celebration at the same time," said Damaturu resident Aisami Bundi.
"People are struggling to strike a balance between the merriment of the season and the losses the city has incurred from the attacks, especially the large number of people that have been killed," he said.
"I am still shocked over the attacks. … It was just unbelievable," said another Damaturu resident, Badamasi Maikaji.
Thousands gathered for morning prayers to mark Eid el-Adha, or the Feast of Sacrifices, on Sunday at an open ground in Damaturu patrolled by dozens of armed police.
The 15-nation UN Security Council condemned the attacks "in the strongest terms."
Abul Qaqa, a purported spokesman for Boko Haram, on Saturday said the sect claimed responsibility for the attacks, warning of more to come.
The Friday bomb and gun attacks targeted police stations, an army base and churches in the cities of Damaturu, Maiduguri and two small towns.
The attackers bombed their targets, which also included a bank, then took on the security forces in gun battles in Damaturu.
Residents said gunfire rang out for several hours across the city after the explosions.
The police headquarters and a multi-storey building which houses the police anti-terrorism unit were both hit by powerful bombs, according to police and residents.
An AFP reporter said no office was still standing at the police headquarters, which was still smouldering some 24 hours after the attack. Several burnt cars lay in front of the building.
While Nigeria's northern region is predominantly Muslim, pockets of Christians exist among the communities.
Six churches were bombed in addition to a police station in a mainly Christian neighbourhood of Damaturu called Jerusalem, according to residents.
Militants from Boko Haram, whose name means "Western Education Is Sin" in the regional Hausa language, have in the past targeted police and military, community and religious leaders, as well as politicians.
The sect, which wants to see the establishment of an Islamic state in northern Nigeria, staged an uprising which was brutally put down by security forces in 2009.
Nigeria's more than 160 million people are divided almost in half between Muslims and Christians, living roughly in the north and south of the country respectively. Regions where they overlap are prey to frequent tensions.