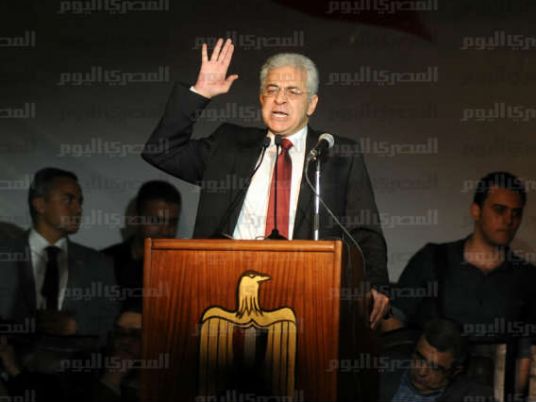 Former Presidential Hopeful Hamdeen Sabbahi, founder of Popular Current, has said that all maps and documents locate Tiran and Sanafir within the Egyptian state. What is more, he asserted, no former Egyptian president signed agreements conceding the islands to foreign states.
In a televised interview aired on Al-Qahera wal Nas satellite TV channel Tuesday, Sabbahi said that security-wise, conceding the two islands hands over the most valuable card in Egypt's hand: the Suez Canal route to Israel. The decision, he predicted, will turn the strait of Tiran into an international corridor.
Israel seeks to establish a navigational corridor between the Black Sea, the Mediterranean and Red Sea, which will turn the Suez Canal into a "swimming pool", he predicted.
"The people of Egypt, not the president, are the ones who should make the decision, in order for the agreement to be legitimate," declared Sabbahi.
An agreement signed during King Salman's visit to Egypt this week placed the islands of Tiran and Sanafir within Saudi territorial waters, allegedly returning them to Saudi control after more than 60 years of Egyptian protection.
The strategic importance of the two islands owes to their location at the southern entry to the Gulf of Aqaba, level with Sharm El Sheikh.
"Anyone in the possession of documents [pertaining to the islands] should share them… Saudi Arabia needs Egypt more than we need them," he asserted.
"Egypt's destiny is to be a leader not a follower. The things I have heard reported by official institutions and media professionals on the Tiran and Sanafir issue are appalling. Such a style of government is not fitting of Egypt."
"We must adhere to the constitution. Giving up Tiran and Sanafir is damaging to Egyptian-Saudi ties," he concluded.
"President Abdel Fattah al-Sisi needs to correct his policies and choices. He will never enjoy the people's trust again because the way he makes decisions is unacceptable, insulting to the people of Egypt and lacks transparency," he said.
"I believe in participatory democracy, but Egypt is being ruled by stealth at the moment," he said.
Nonetheless, Sabbahi confirmed that he has no intention to stand for any elections in future.

Edited translation from Al-Masry Al-Youm