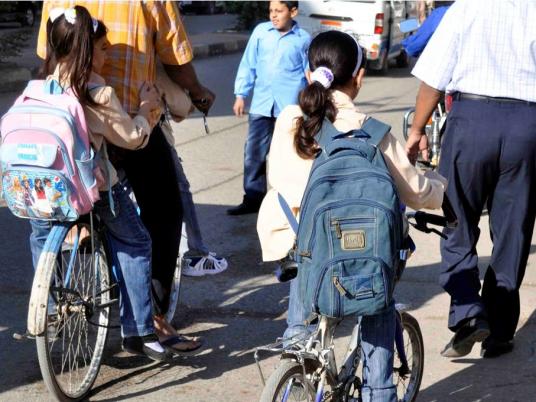 Two years after the Education Ministry removed the entire sexual and reproductive health chapters from the national curriculum, studies show there is a pervasive lack of understanding among students surrounding these issues.
The chapters were removed in line with religious motivations, even though experts see a clear relationship between sexual health education and decreasing the risk of disease. Some think censorship in sex education will protect youth from moral corruption, but others fear these efforts fail to consider serious threats to future generations.
Reproductive topics were added to the national health education curriculum in 1994, following the International Conference on Population and Development, which declared the equal right of all men and women to receive comprehensive information on reproductive health. Many experts think a lack of sexual health education will put the next generation at risk of sexually transmitted infections and threaten progress that has been made on controversial issues such as female genital mutilation.
The 2010 changes to the curriculum affect schoolchildren ages 11 to 17, and removed the discussion of testes and ovaries for sixth graders in primary school. Rather than talking about these organs as the center of the reproductive system, they are referred to in name alone and as part of the endocrine system.
For ninth graders, illustrations of the male and female reproductive systems were removed, as were all discussions of STIs — except HIV/AIDS — for 12th graders.
To replace the removed sections, the Education Ministry said there would be "activities in which the teacher will lead a class discussion on the subject."
The removal of sexual and reproductive health education in textbooks is a critical issue, but the problem might be more deep-seated than censorship alone.
"It's not a matter of curriculum, it's a matter of qualified teachers," says Marwa Rakha, a former TV personality and a relationship and dating expert.
Teachers were largely unprepared to teach reproductive health lessons, even when the material was included, Rakha says.
A 2012 study by the Population Reference Bureau found that "both teachers and supervisors admitted that there were no standards or guidelines for teaching sexual and reproductive health," meaning that teachers who did not want to discuss sex could skip over the anatomical illustrations or tell students to ask their families instead.
But studies suggest that families don't necessarily educate their children about sexual health either. The 2009 Survey of Young People in Egypt reported that only one-quarter of young people between 10 and 29 had talked with their parents about changes during puberty.
Other studies suggest that a gender gap compounds the issue. The nationwide Population Reference Bureau study found that girls in urban areas learned the most from their mothers, followed by friends and relatives. Boys, on the other hand, relied on their peers and the Internet as their two main sources of information.
And a study of female Alexandria University students found that none — a full 0 percent — had satisfactory knowledge about sexual health.
The consequences of unawareness are extensive, Rakha says.
"They might be spammed with incorrect information, and that can do more damage than the curriculum," she says, commenting on how misconceptions and deficiencies in the lessons are exposing students to even greater risks than potential "stirring instincts," as former Al-Azhar Sheikh Mohamed Tantawy put it in 2005.
Surveys have shown that young Egyptian women are poorly informed about reproductive health and safe sex practices.
"They didn't know if what they did with their boyfriends led them to losing their virginity. They know the hymen exists, but they don't know details. They don't know if [STIs] are caused by intercourse," says Rakha.
Especially among the lower and median quartiles of income and education level, the knowledge of one's own body is often minimal, and the repercussions — stress, risky behavior, lack of counseling and advice — manifest themselves as early as adolescence and can persist throughout married life.
"One girl even thought she got pregnant from kissing," Rakha says.
She says boys often don't know what it takes to have a healthy intimate relationship, and that their understanding of sex as adults might be full of cracks, which could result in an inability to communicate and enjoy married life — and that can lead to psychological problems or divorce.
Another alarming trend linked to poor sexual health education is the rapid rise of HIV/AIDS in the region. There was a 300 percent increase in the incidence of infection between 2004 and 2007, compared with a 20 percent increase globally.
"The staggering rate of increase is mainly due to factors such as ignorance, lack of awareness, denial and misinterpretations of facts," says Ali Saleh, a United Nations Development Program analyst and HIV/AIDS program coordinator, speaking at a UNDP meeting.
Less than 16 percent of women in the richest fifth of Egyptians knew the basics of the disease, and less than a third of males in the wealthiest group were aware that a person could be HIV-positive and still appear healthy. The increasing incidence of the disease and decreasing availability of information could make the country a petri dish for an epidemic.
While the risk of an HIV/AIDS epidemic is lurking and underestimated, other sexually charged dangers have already consumed entire demographics.
Widespread practice of khitan, or female genital mutilation, is one of Egypt's most critical — and controversial — women's issues. Its prominence is often associated with a lack of knowledge about the role of anatomical organs and the functions of hormones in a woman's body.
Egypt has taken great strides toward lowering the incidence of the practice, but a lack of emphasis in school and recent movements to decriminalize it threaten to counteract this progress.
"In the face of widespread FGM, the first way forward is addressing a great need to improve knowledge among the population," says UNICEF representative Philippe Duamelle.
If what matters more than curricular content is the ability to teach sensitive issues, then the way forward might not be through reforming the lessons in students' government-issued textbooks. Third-party organizations are implementing alternative educational programs with greater success.
In response to the curricular changes, "peer education" programs organized in cooperation with the United Nations Population Fund place health clinics on campuses, including the Assiut University faculty of medicine.
"These clinics spread awareness and offer education on reproductive health issues," Dr. Magdy Khaled of UNFPA says.
Other approaches include re-titling chapters as "family health," rather than "sexual and reproductive health," to avoid irritating cultural sensitivities. And Rakha suggests watching a movie, "The Ostrich and the Peacock," which tells the story of a married couple who go to see a sexologist.
"Everything is there in a very creative way," she says. "The way it is dealt with and handled is very discrete and civilized, so it won't harm anyone's beliefs."
This piece was originally published in Egypt Independent's weekly print edition.