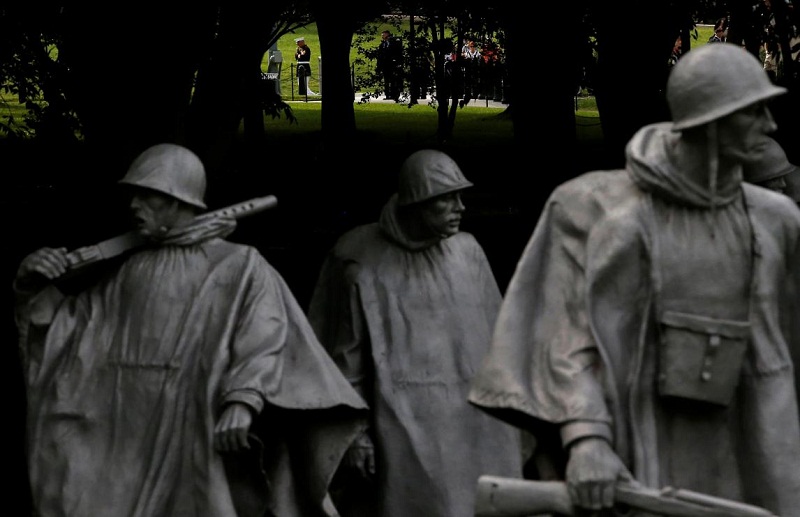 North Korea could start the process of handing over the remains of troops, including Americans, missing from the Korean War within the next few days, two US officials told Reuters on Tuesday.
The officials, speaking on condition of anonymity, said North Korea would hand over the remains to United Nations Command in South Korea, and they would then be transferred to Hickam Air Force Base in Hawaii.
One official said "a sizable number" of remains were expected to be handed over, but declined to give a specific number given the unpredictability of North Korean leader Kim Jong Un.
It could take months or even years before the remains are positively identified, the officials added.
US President Donald Trump met with Kim at a historic summit last week in Singapore.
In a news conference following the summit, Trump said North Korea had agreed to return the remains of US soldiers.
"(The families) want the remains of their fathers, and mothers, and all of the people that got caught into that really brutal war," Trump said.
"And (Kim) agreed to that so quickly and so nice – it was really a very nice thing, and he understands it," Trump added.
About 7,700 US military personnel remain unaccounted from the 1950-1953 Korean War, US military data shows. According to the Pentagon, North Korean officials have indicated in the past that they have the remains of as many as 200 US troops. More than 36,500 US troops died in the conflict.
The remains of some US soldiers were last returned in 2007, when then-New Mexico Governor Bill Richardson visited Pyongyang.
Trump has hailed the Singapore summit as a success, but skeptics have questioned whether he achieved anything new, given that Pyongyang, which has rejected unilateral nuclear disarmament, appeared to make no new concrete commitments.
Transferring the remains would mark the first step Kim has taken since the summit that could indicate he may be serious about improving relations with Washington.
On Monday, the United States and South Korea said they had agreed to suspend a joint military exercise scheduled for August.
US Secretary of State Mike Pompeo said he would likely travel back to North Korea "before too terribly long" to try to flesh out commitments made at the summit.
Pompeo, who has traveled twice to North Korea this year and met Kim for a third time at the June 12 Singapore summit, told an audience in Detroit that Kim had made "very clear his commitment to fully denuclearize his country," but there was a great deal of work to do.